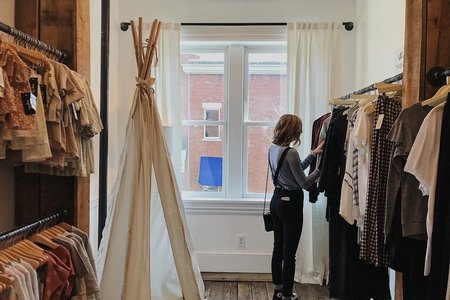 10 Clothing Stores Where You Can Get AHH-mazing Student Discounts (You're Welcome)
Between dropping thousands of dollars on tuition and hundreds of dollars on textbooks every year, it's more important than ever to balance your budget as much as possible. Of course, that also means minimizing spending on things like clothes, food, and makeup. 
Because of this, it might be a little harder to get your hands on the latest fashion trends while staying inside your budget. But, you don't necessarily have to break your budget in order to look fashionable. 
With the help of student discounts, you can still afford some cute clothes without worrying too much about your budget.
Take advantage of the student discounts offered at these clothing stores:
Save up to 10% off on all the must-have trendy Lulu's essentials by signing up for Unidays. After that, you'll gain access to a different discount code every time you shop!

Stock up on some stylish shoes with a 10% discount. The discount only applies to online purchases, but your discount code is renewed every 30 days. To obtain this deal, you'll need to fill out a quick form through their website.

While you can't get a discount online, you can still get a discount in stores! Just show them your student I.D and you'll automatically get a 15% off.

Forever is already pretty cheap in itself, but with their 15% student discount, you'll barely make a dent in your budget when you shop here. It only works for online purchases and is activated through Student Beans.

Blazers, slacks, pencil skirts―all these classy business staples can be purchased using the 15% discount in-store and online. Just show your student ID in-store, or obtain your online discount code through Unidays!

You can get a 10% student discount by filling out an online form. From there, you'll get your own unique discount code that can be used with every single purchase. This code is valid until you graduate!

Stay on Top of all the latest fashion trends using their 10% student discount. It can be used in-store or online and is unlocked by Student Beans or by presenting your student ID in-store.

Sign up with Unidays, and you'll automatically get a 10% discount. The discount is for online purchases only and is a one-time-use code, so you'll be getting a new code every time you shop at Tilly's.
Before you proceed to go on a shopping spree, always remember to keep your student ID on hand at all times, and don't be afraid to ask if a store has a student discount. You might be surprised at what stores do have a student discount, so always ask to make sure you are getting the best deal!