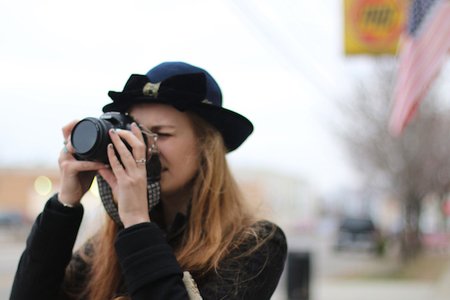 What Would You Do for the Perfect Photograph?
Last year, I wrote an article about my obsession with photographing food. While I still love to capture delicious bowls of quinoa and butternut squash, I spend just as much time perfecting a photo to post to my personal Instagram account. I'm not exactly sure when my infatuation with curating such an aesthetically orientated Instagram account (if I do say so myself) began––probably five minutes after the first selfie I snapped on my family's iPad in eighth grade #tbt. Either way, my concentration with taking the best photo at outings whether to the grocery store or beach, has taken on new levels and I find myself asking 1) what am I doing with my life and 2) is this enhancing the experience or subtracting from it?
I bring you to a specific example two summers ago. I was visiting Cape Cod with my mom for a long weekend and we were strolling along our favorite beach before heading back home to MA. There was a cluster of rocks by the seashore with fresh seaweed and barnacles popping out from the sides. Basically, it was every influencer's dream photoshoot and naturally there was a surplus of girls and boys taking photos. Falling into the same trap, I got in line behind blond haired girl number one and brown haired girl number two (after me) to wait my turn. My mom and I snapped photos of the sand dunes and skyline as we waited, tapping our feet against the sand. My mom was growing impatient and felt that the girls in front of us were being obnoxious, taking way too long when other people, us and other families included, were waiting. I, being the very non-confrontational introvert that I am, began to back away from the whole scene content with the scenic shots I had already taken, but my mom persisted telling me to not let these other girls push me around. I felt like I was back on the playground, falling victim to the popular girls who I would always let go in front of me on the monkey bars. Naturally my mom and I fought over this immature debacle that is the epitome of first-world-problems. On our drive home I began to reflect on all of the photos I had taken that trip. What was their purpose? To capture the moment so I could remember this annual trip in decades to come? Or to receive as many likes on Instagram (#tbt) and Facebook as possible? Was it simply to tell the world that yes, I do indeed lead a life beyond coffee and homework?
To be honest, I think it's all three. I remember arguing about the entire concept of taking photos at Thanksgiving several years ago. My cousins (who happen to be millennials) were snapping photos of our family's spread. Meanwhile I was scrolling through my own Instagram feed, bombarded with posts of turkeys and vegan dinners while I did my best to refrain from joining the party and instead trying to be present with my family. Our older family members mocked the notion of having hundreds of "friends" on Facebook. Even though I may photograph the most random things in my life to prove that I did something productive (like say, my grocery cart filled with granola bars and dairy-free yogurt because I am basic), I try to control myself around the holidays. 
When I go out to lunch with my friends, I will often make their poor souls wait a hot sec so I can capture the spread before we all dig into our sandwiches and salads after waiting an ungodly amount of time at this particular cafe that is getting all the praise in the newspapers. We laugh about it in the moment, but I can see in my friend's eyes that if this were the Hunger Games, I would die before grabbing a box of saltines at the cornucopia. For the rest of our afternoon out, I can be found snapping photos of my feet surrounded by leaves or a cute house that I will most likely caption: "went house hunting!" I am cringing at myself as I type this. 
So, yes, I acknowledge that I may have an unhealthy habit of taking photos constantly, pretending I am an influencer. Then again, I am a Her Campus Trendsetter so… My point is that I still love to take photos. I will definitely be the "mom" of the group and force everyone to group up while I snap a photo with my Canon so we can have this quality photo for years to come. There is something so powerful in a photograph. I find happiness in taking candids of my friends at concerts or on walks through the Arbo. Posting these photos to my Instagram story is a whole other thing, especially now that I have gotten into the realm of story templates and the plethora of stickers which seem to be added to Instagram every day. When I caption my photos I try to point out the absurdity in it all: why are we even posting about going to get coffee before class? What's the point? Does anyone even care? Wow. That got dark. For me, I don't care if anyone cares. I especially don't care if there is secretly a group of haters mocking my recurring posts of the same Bee's Knees from Coffee Closet. Then again, I definitely do not have enough of a following or presence to even warrant such a posse of haters. 
I will be honest when I say that I have a love-hate relationship with social media, especially Instagram. When I was in middle and high school I constantly felt left out and judged at the hands of what other people posted on their Instagram accounts. It wasn't until last year that I began to find my own voice through Instagram and started to post whatever I wanted in a way that flexed my creativity. So, I return to my original question: what would you do for the perfect photograph? I want to say, nothing but be thankful for the photographs I already have. The reality is that I would probably give my left arm to capture the perfect candid of me taking my first sip of a matcha latte with almond milk. To each their own.