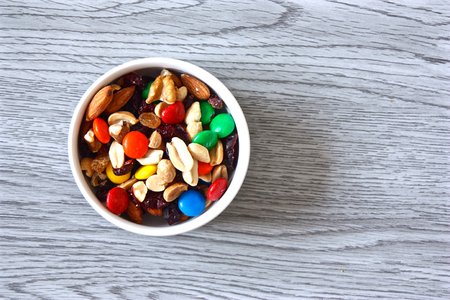 There will be days where you just want some sweets and fun snacks in college. After a long and hard studying session or a good sweaty practice head over to Harris and make your own little snack. Here are some EASY and fun dining hall food snack hacks:
Trail Mix
First, grab a bowl and go to the salad bar to get some raisins or dried fruits.

Then, head over to the bakery section and add some peanuts and/or walnuts 

Add in some pretzels or some Chex cereal (chocolate is the best!), or get any type of cereals you want at the cereal bar

While you're there, gotta add some granola to top it off!
Nachos
Grab some tortilla chips near the salad bar, and top on some shredded cheese or cheese slices from the sandwich bar

Microwave until it melts 

Head over to the grill to add some grilled chicken

Now add on any toppings of your preference like sour cream, salsa, guacamole, olives, peppers, beans, and lettuce
Waffle Sandwich
Tired of bagels and breads? Substitute it with waffles near the soft serve machine! Make a breakfast sandwich with bacon/sausage, egg and cheese.

Or, get hard-serve or soft-serve ice cream and make an ice cream sandwich! (instead of waffles, you can use cookies to make ice cream sandwich too)
Ice Cream Float
Get a bowl of your favorite ice cream

Then, add your choice of soda beverage!
Pizza Bagel
Grab a bagel from the bakery section

Then, go over to the pasta area and add marinara sauce and shredded cheese (or any other toppings from the salad area)

Pop it in the microwave until the cheese melts!
Everyone deserves a cheat day and a little extra sweetness to brighten up your day, so be a master chef in your own dining hall!