Thoughts on New Comedy, The Other Two
When a project has members of the Saturday Night Live family attached to it, you know it's going to be good. The Other Two, a new comedy series that premiered on Comedy Central in late January, was created by well-seasoned SNL writers Sarah Schneider and Chris Kelly, and has the creator of SNL himself, Lorne Michaels, credited as a producer. The series follows siblings Cary (Drew Tarver), an aspiring actor, and his sister Brooke (Heléne Yorke), a former professional dancer and certified hot mess, as they adjust to their 13-year-old brother's sudden rise to fame as a tween pop star.
    After the music video for his song "Marry U at Recess" goes viral, Chase Dubek AKA Chase Dreams (Case Walker) becomes the next pop sensation. Unfortunately for his 20-something siblings, this means they must face the reality that their barely-teenaged brother has found immediate success while they're still figuring life out. The first five episodes shows Chase encountering a new element of celebrity life as an adolescent, and with each encounter, Cary and Brooke try to keep up. When Chase is invited to a movie premiere, Cary and Brooke attend as his overdressed guests and relish in all of the performative fun. When Chase begins a fake relationship with another young singer, Yendani, Brooke must deal with her problematic past as it could tarnish Chase and Yendani's reputations. When Chase makes a viral video dedicated to Cary declaring how proud he is of his gay brother, Cary must deal with the aftermath, both good and bad.
    However, the beauty of this show is that it isn't just limited to observing Chase's budding career and how his siblings deal with living in his shadow; the audience also gets to watch as "the other two" navigate their own less-than-perfect lives apart from Chase. Cary tries to make it as an actor, attending auditions in which he is told he acts "too gay" while pretending to smell a fart. He also struggles to understand his relationship with his supposedly straight roommate whom he makes out with constantly. Cary can never seem to catch a break, but the subtlety in Tarver's performance as this slightly pathetic character ensures that Cary doesn't wind up being a complete joke.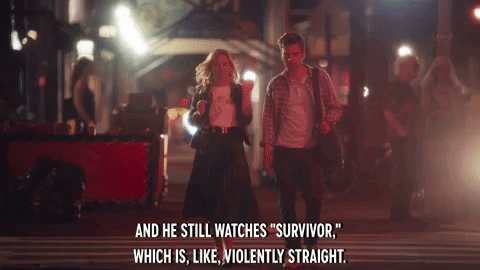 While we almost always feel nothing but endless pity for Cary, Brooke's dysfunctional life is a little easier to laugh at. She is first introduced as a real estate agent squatting in empty apartments because she's technically homeless. Though Cary faces unbelievably cringy circumstances, Brooke is the cringier character of the two. She claims she's bisexual despite definitely not liking women, regularly makes appearances at a gay bar where everyone hates her, and brags that people on the Internet always call her "a classic white feminist," which she's told, to her surprise, is "not a good thing." After breaking up with her boyfriend, Lance, a Foot Locker employee who still says "Damn, Daniel!" Brooke decides to chase her dreams, whatever that might mean. Despite her lack of self-awareness most of the time, Brooke isn't completely unlikeable nor is she The Absolute Worst; she's just a slightly narcissistic woman who always has deodorant on the outside of her clothing and steals from Starbucks.
    The show appears to be both Tarver and Yorke's big break. Both actors have been around in the industry for a while, each with acting credits from as long as 10 years ago, but this is each of their first roles as a lead in an on-screen production. Walker is very new to the acting scene as well—in an interview with the stars of the show, Walker shares that his audition for The Other Two was his first ever. The series's cast also boasts comedic legends, such as SNL alumni Molly Shannon, who plays the mother of the three siblings, and Wanda Sykes, an executive at Chase's record label.
    There are obvious references to another former tween "heartthrobs" such as Justin Bieber throughout the series, the most obvious being Chase's similar aesthetic to Bieber's in his earlier days. The name of Chase's manager, Streeter (Ken Marino), is likely a play on Bieber's manager Scooter Braun, and the interview on The Morning Show that makes up the first scene of the series bears a striking resemblance to an interview* with Bieber and his mother at the very beginning of his career. The show also pointedly draws attention to the over-sexualization of young boys in the entertainment industry, something Bieber and many others have been subjected to. Chase's record label consider transitioning the 13-year-old "to sexy" earlier than they planned when he gets a pimple, and Brooke discovers multiple pairs of used underwear from grown women in Chase's fan mail. In these ways and many others, the show does an incredible job at satirizing the ridiculous nature of the music industry and the strategic construction of celebrity culture. Though The Other Two might still be finding its footing a bit—as is to be expected—it's off to a strong start, having already been picked up for another season that I can't wait to tune into.