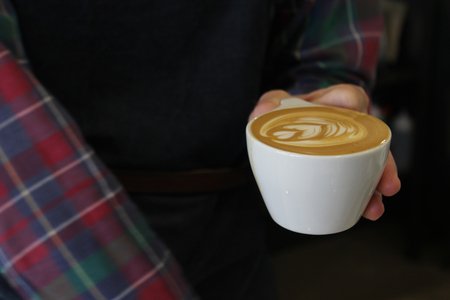 I Tried Pumpkin Lattes From Five Major Coffee Chains
I love pumpkin lattes. So, every September, I unashamedly claim my status as a stereotypical "basic white girl." No matter how hard people try to criticize the basicness of this drink, it's my go-to drink from September to November and I will always embrace it. The first sip of a pumpkin latte on a balmy autumn day feels as if I was cozying up in a chunky knit sweater with my favourite book. It feels like coming home. 
I'm usually faithful to the famous Starbucks Pumpkin Spice Latte (PSL), however, this year I wanted to mix it up and try pumpkin lattes from other coffee shops around Montreal. So, I tried one from the following five major coffee chains: Second Cup, Tim Hortons, Van Houtte, McDonald's, and of course, Starbucks. Here are my findings.
It is worth mentioning that I love soy milk, so when the option was available, I ordered my lattes with soy milk, which may have altered the taste.  
Second Cup
Second Cup's Pumpkin Spice Latte, as it is called on the menu, was served with a generous dollop of whipped cream, which I found to be a nice touch. The latte itself was very spicy. The "spice" in Pumpkin Spice Latte is definitely emphasized. 
The menu says it is made with "pumpkin pie spices," which was evident to me. I found cinnamon, nutmeg, and clove to be the most prominent flavours. There were even little chunks of spice at the bottom of my cup when I was finished. 
This was a change compared to Starbucks' extremely sweet lattes. I have a huge sweet tooth when it comes to lattes and prefer the sugary, rich pumpkin taste. However, if you typically enjoy more spicy teas like chai or usually avoid pumpkin lattes due to their excessive sweetness, Second Cup's PSL may be right for you. 
Tim Hortons
This one was interesting. I grabbed a Tim Hortons Pumpkin Spice Latte on my way to class and found it had a unique taste. It tasted like a regular latte with slight hints of pumpkin and spices. Unlike many other pumpkin lattes I've tasted, the flavours were secondary to the classic espresso taste. Since the coffee notes were prominent, I found it tasted more like pumpkin flavoured coffee with milk rather than a latte. 
There was no whipped cream on mine, which I found to be no fun. If you want a more serious, classic latte, but still want to get in the fall spirit, you might like Tim Hortons' Pumpkin Spice Latte. 
Van Houtte
Have you ever tasted a warm slice of pumpkin bread or a fresh cinnamon roll? I found Van Houtte's Pumpkin Spice Latte tasted like a mix of those two decadent desserts. The first aspect I noticed about this latte was the rich spicy flavour, yet it was not overpowering. It was balanced out by the sweeter pumpkin taste. The latte was topped with whipped cream, which helped contrast the spices. The warm dessert taste of this latte matched the chilly autumn weather. 
I also noticed that Van Houtte sold a myriad of other pumpkin drinks, such as a Pumpkin Chai and a Pumpkin Matcha Latte, which is great if you want a change from coffee. This one was definitely on the sugary side, though. I recommend Van Houtte's Pumpkin Spice Latte to fans of Starbucks' PSL or those who like sweet lattes.  
McDonald's
I picked up a McDonald's Autumn Spice Latte expecting it to be full of sugary goodness like many of their other flavoured lattes, but, this one was similar to Tim Hortons' Pumpkin Spice Latte. The pumpkin flavour was subtle, with slight hints of spice instead of overpowering flavours. The classic latte taste was strong. It was also quite inexpensive for a specialty latte. I didn't find this one to be too special, but if you don't want an extremely sweet latte you may enjoy the McDonald's Autumn Spice Latte. 
Starbucks
The best for last. The well-known Starbucks PSL is still at the top of my list of fall drinks. The rich, pumpkin flavour with slightly spicy notes is a forever favourite in my mind. This one is the sweetest and has the most pumpkin flavour compared to the other lattes. As Tim Hortons and McDonald's PSL taste closer to a traditional latte with added flavour, Starbucks goes a little further and packs their beverages with flavour. The only downside, though, is that going to Starbucks can get pretty expensive, regardless of the drink you order. A medium PSL with soy milk usually ends up costing around $6 or $7. 
In the end, it all comes down to personal preference. Whether you crave a classic latte, one with spice, or a flavourful drink, there are plenty of options around Montreal for pumpkin lattes!