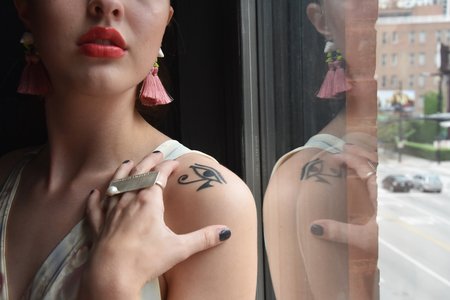 Anna Thetard / Her Campus
I'm Scared of Needles, So Obviously, I Got a Tattoo
Ever since I was little the idea of permanently marking my body seemed more like an unrealistic nightmare than a desired dream. It wasn't until going to university that I was submerged in the tattoo-acceptable culture. Don't get me wrong, I have multiple piercings, but to me, as strange as it may sound, the idea of a small hole in my body isn't as nerve-racking as forever having an image on my body. 
That being said, this summer I finally overcame my fears and got inked. While this idea may have come as a surprise to some people around me -- in fact, it only took a month between hypothetically speaking with my sister about what our ideal first tattoo would look like if we ever got the cojones to do it, to me sitting in the tattooing chair while a needle marks my skin -- I considered a few of the following things.
1. Meaning versus design
I am not someone who believes that all tattoos need to have some deep personal meaning.  Sometimes, people just get something because they like the design, and thought it was pretty or cool. The one I got has some meaning, but not something worth a long story every time someone asks about it. 
Sometimes meaning is great and can make you feel closer to an emotion and happy about the choice you have made, but I don't believe you should necessarily wait until you find something that has exceptional meaning to get a tattoo. 
2. Really think about it
Tattoos are PERMANENT.  It might be a crazy concept to think about, but the thing you decide to put on your body will be there until you pass away -- unless you choose to get it removed, which l heard really hurts. 
Because of this, make sure you think about how you want it to look. Before getting mine, I had a general idea of what I wanted, but I spent a lot of time scrolling through imagines online and tweaking to the final look. The tattoo artist I chose helped a lot with this.  We went back and forth about little details. Now that it's done, when I look at it, I can't help but smile because it is exactly how I wanted it.
3. Ask for other people's opinions
I count myself lucky enough to have people in my life who are very honest with me. While I don't think you should do something based on what others think, there is nothing wrong with asking friends and family for their opinion about the design you have in mind. The final decision is yours, but a fresh set of eyes could bring a new perspective. Just like if you have a school paper due and want a friend to look it over; it doesn't have to be different for a tattoo design. 
4. Research the tattoo artist
Once you have a design in mind, it's time to find the artist who will apply it to your body. This is the person who will be handling not only the creation of the final design, but making sure you have the right instructions for aftercare. It is important to choose a place and person whose work you like. I chose to get tattooed at XS Tattoo because I was satisfied with the care they gave me when getting my piercings. XS has a list of all their tattoo artists and their Instagram accounts on their website, so I easily found the artist that suited my needs. The artist I liked had done cartoonish work in the past, which matched the design style I wanted.
Researching your future tattoo artists allows you to see their past work and what they are capable of. It also allows you to reach out to them and start a conversation about their availability.
5. Have a consultation
This tip does not only apply to those who are getting their first tattoo, but to anyone who is getting one. Consulting with the tattoo artist before getting a tattoo gives you the chance to ask as many questions as you would like -- whether it be about the design, the pain, the aftercare, the price and more. Most consultations are free, so why not have one? While I started a conversation with my artist through Instagram, it was nice to meet her face to face before the big day. I was very nervous about the whole thing, even though I was confident in my decision. Having a judgement-free conversation beforehand helped me relax and made even more excited about my decision.
She answered all the questions I had, even if some might have seemed dumb. It might also be a good idea to bring someone you trust to this appointment, just in case they think of questions you haven't even thought of asking. I brought one of my sisters.
6. Eat beforehand. 
Period. 
7. Follow the aftercare instructions
This may seem like an obvious step, but some people don't take it seriously, especially if it isn't their first tattoo. These instructions ensure you have a healthy and safe healing process, so it is wise to follow them. They aren't really that hard or complicated to follow. Plus, I'm sure no one wants to hurt themselves or deal with a health problem if things get horrible.
These are things I learned before and after getting my tattoo. I got mine on my back so I don't see it everyday. But, the moments I glance at it in the mirror or when someone else notices it and points it out, I can't help but be happy that I not only overcame my fear of tattoos, but also that this little buddy of mine will be there forever.