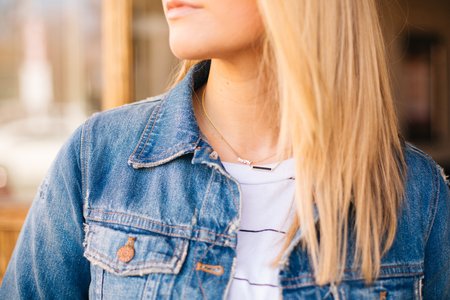 Breanna Coon / Her Campus
How to Style Sorority Apparel
Ever since I joined a sorority, I've gotten a surplus of sorority shirts and apparel. Oftentimes I wonder how I can make my sorority apparel match my own style so I can show off my letters confidently. I have a lot of different styles of shirts since I've been in a sorority for a year, I have found different ways to style outfits with them that is more than just jeans and a t-shirt!
1. Jacket
I find pairing outfits with the right jacket can make all the difference. A jean jacket can look more relaxed, and a leather jacket can seem more put together. The good thing about this for me is that a lot of the sorority shirts I've received are unisex tops, which are very wide on my petite body. Pulling a small jacket over it can hide the wide arms and make the shirt more form fitting.  
2. Sporty
Wearing a sorority top with a sweater and a pair of leggings is an adorable outfit for walking around campus. You can also wear a neutral comfortable outfit and pair it with a sorority letters baseball cap. Places such as Etsy make custom sorority letter sweaters and crewnecks, so you can be comfortable and cute in class wearing a one of a kind set of letters.
3. Dressy
Tucking a top into a skirt can be a good way to make a regular top seem dressier. It makes a nice outfit for events such as recruitment and bid night! Pairing letters with a pair of jeans and a blazer can also dress up your letters in a more relaxed way.
4. Tied
A lot of my sorority shirts are long (and as mentioned above, unisex and therefore unflattering on my small frame). Twisting and tying a knot in the back is practical because it can make larger tops fit a little better. It's also a really cute style and can be replicated on any shirt whether or not you're trying to make it fit better or not.