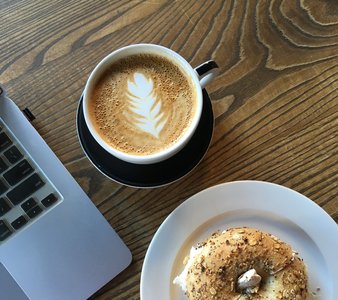 Crew Collective & Café Review
Of all the cafés in Montreal, Crew Collective may be the fanciest. In the heart of Old Montreal, it is located at 360 Rue Saint Jacques in what used to be the headquarters of the Royal Bank of Canada. As someone who loves both coffee and history, I had to check out this café on my reading week to marvel over the building and sip on an artisan latte.
At first glance, the building is already gorgeous. It still wears many of the features it hadin 1928 when it was built: beautiful, detailed windows, gold plated elevators and a grand staircase leading up to the café. The café is, from what I saw, the only thing that was modern about the building. It was so interesting to see two decors collide, from the elegant architecture of the original building to the trendy and minimalist design of the café.
The coffee bar is right in the center when you walk into the café section and is surrounded by both meeting rooms and free couches and tables. The meeting rooms start at $30 an hour, as advertised on the door of each room. However, small booths are also located around the perimeter of the café which are available for a maximum of two hours, and a minimum of two people per booth, provided you buy a drink or a snack. The "collective" part refers to what is mentioned on their website as their "members-only workplace," which can be booked from just a day to over a year.
I arrived at around 1:15 p.m. on a Monday morning, and the café was already packed. I ordered a caramel latte and a dark chocolate chip cookie. My boyfriend  ordered the exact same thing, and I ended up paying $20 for both. Admittedly, I did find it a little expensive, but it was a nice treat. Only a small corner of a table was free, and so we sat down and began to do some homework. A few minutes later, a group of people left one of the booths next to me, so I quickly slid into one before one of the staff could even clear the dishes that were left behind.  
The booths are roomy and although they are not completely enclosed, they offer some privacy. One of the interesting features of the café is that by going on their online menu, you can order right to your table, paying online with your card. I did not try it, but next time I go I think it is something I would like to try for the experience. Here is the menu if you are interested.
Overall, this café is both elegant and trendy. They offer much more than coffee, such as prepackaged smoothies and lunches. If Crew Café was closer to Concordia, I would definitely be there much more often (something my debit card would not enjoy). The wifi worked very well, and I was able to complete a lesson for an online class with no lagging or service interruption. It is definitely a place I would recommend for a stylish and historical location to get work done!