The Best Stand-Up Specials on Netflix
There is such a diverse array of stand-up specials on Netflix; it can be hard to pick which one to dedicate your time to, and which ones just aren't worth it. After careful deliberation and many hours lost to enduring bad jokes, here are, in my opinion, the best stand-up specials on Netflix.
1) Hannibal Buress: Comedy Camisado (2016)
    Comedian Hannibal Buress, who is best known for starring on the parody talk show The Eric Andre Show as himself, shows that he can hold his own in his 2016 Netflix comedy special Comedy Camisado. Because of my undying love for him ever since I discovered him in the comedy series Broad City, I figured Hannibal doing stand-up must be just as lovable, and I was not disappointed. He expresses his frustration with people being dumb, from servers ID'ing him at 32 years old to doctors performing laser eye surgery on him, and even actor babies he's had to work with, in such an astute yet subtle way it'll leave you wondering how Hannibal even gets by in his day-to-day life surrounded by idiots.
    The comedian even acknowledges the Bill Cosby scandal, of which he played a major part* in bringing back into public consciousness back in 2014 when he made a joke about all of Cosby's virtually unknown rape allegations at the time. The set ends with Hannibal's position on steroids (spoiler: he's all for them, but not for the reasons you might think), and you'll be left laughing at his straight-faced delivery for days.
2) Tig Notaro: Happy to Be Here (2018)
    Six years after receiving her breast cancer diagnosis, Tig Notaro is just happy to be here. Despite going through something so life-changing, Tig avoids the topic altogether, focusing on lighter parts of her life like constantly getting mistaken for a guy or her tendency to do bits at parties that intentionally make her look insane to strangers. Most of Tig's set focuses on anecdotes about her family, including her equally as hilarious wife and the ridiculous things she says, as well as their two twins sons and their bicurious kitten, Fluff. Tig is a veteran stand-up comic, and it shows. The set is polished and the delivery is flawless, ending with a lead-up to a big surprise that drags on so long you forget where you are and what is happening. One thing is clear, though: we're happy Tig is here as well.
3) Chelsea Peretti: One of the Greats (2016)
    Chelsea Peretti's stand-up special, One of the Greats, is more than just stand-up—it's a cinematic experience. The special starts with an intro of Chelsea riding around on a motorcycle, narrating her comedy journey like an action film star and showing fake past sets of hers in which she mocks different cliché styles of stand-up. The set is interjected by shots of Chelsea dressed as a clown and her pre-teen self as though she is hallucinating, as well as cuts to fake audience members like various dogs and a couple making out. Overall, her tone is defined by an exaggerated cockiness that is a major element of her Brooklyn 99 character, Gina; instead of feeling played out, though, it adds to her charm as a stand-up. She critiques male stand-up comics as well as men in general, giving refreshing takes on the ridiculous things men say and do while still maintaining her wit. Chelsea concludes the set with a discussion on how to eat a banana in public as a woman, and proves that she really could be one of the greats.
4) John Mulaney: New in Town (2012), The Comeback Kid (2015), Kid Gorgeous (2018)
    If anyone deserves three stand-up specials on Netflix, it's John Mulaney. Though he won an Emmy for his 2018 special Kid Gorgeous, in which he reminisces about assemblies in elementary school and his days as an SNL writer, explains why college is a scam, and compares Trump to a horse loose in a hospital, his previous specials are just as clever and bound to make you heave with laughter.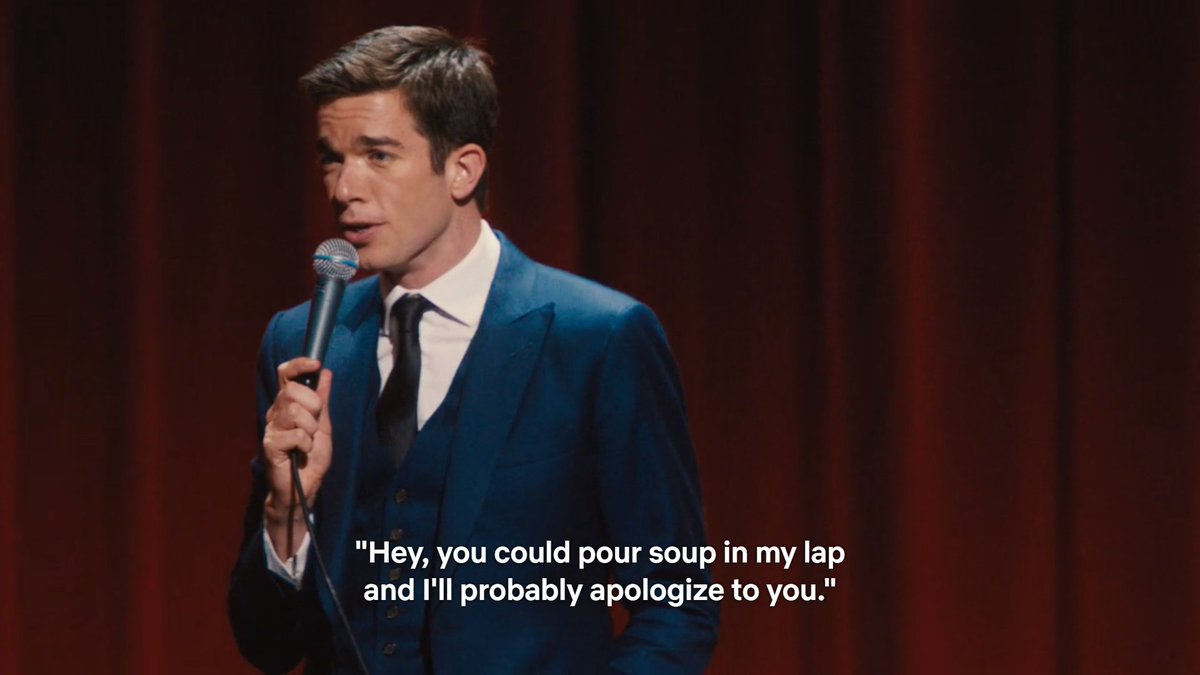 In New in Town, John is just 28 years old, telling stories about his days of heavy drinking before he got sober, and going into heavy detail about an impromptu prostate exam and the events that lead up to it. He also talks about his then-girlfriend whom he has married by the time he does The Comeback Kid, which prompts John to meticulously dissect the outdated expression "why buy the cow when you can get the milk for free." He talks about their new house and puppy and how they still don't want kids, his childhood and how much better kids have it now, and the time he met Bill Clinton when he was just nine years old. Each set has its own energy, but John's boyish charm and self-awareness are consistent throughout as he establishes himself as one of the best comedians of this generation.
hyperlink https://www.theguardian.com/world/2018/apr/26/hannibal-buress-how-a-comedian-reignited-the-bill-cosby-allegations