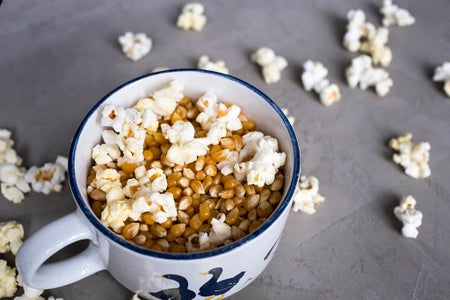 Best Gluten Free Products From A Picky Eater
When I found out I had a wheat allergy, I was devastated. I'm a huge fan of donuts, mac & cheese, baguettes, sandwiches, you name it. If there's wheat in it, I'm probably a fan. In high school, I had friends who had celiac disease, so they needed to avoid gluten at all costs. When I saw the foods they ate, I was so grateful that my body allowed me to have all the gluten-filled foods that I loved. Gluten free foods are usually crumbly, dry, and unappealing. However six months after I graduated high school, I was forced to join the gluten free club.  
I found out I was allergic to wheat after months of digestive issues, throat irritations, mouth sores, and loads of medical tests. I am lucky to not have celiac disease, yet I still have a moderately-severe allergy, which means I have to steer clear of gluten. After a year and a half of eating gluten-free in Montreal, I've compiled a stock of the best gluten free foods you can buy at grocery stores that are safe for the gluten-free eater.  
I LOVE traditional mac and cheese and was upset when I found out I would have to give it up, but after I tried Annie's Gluten Free Mac & Cheese, I was happy again. Annie's makes a myriad of gluten free products, but their delightfully cheesy macaroni is by far one of the most delicious products. I honestly cannot tell the difference between regular pasta and Annie's pasta. I've tried the Rice Pasta and Cheddar flavour and the Rice Pasta Shells and White Cheddar flavour, and both are equally tasty. I've seen Annie's products sold in most Montreal grocery stores. 

Most gluten-free breads must be bought frozen, which means it's difficult to make a sandwich or have a classic slice of buttered bread without toasting it first. However, all of Schär's products are sold on the shelf, which means no freezer! They also offer a wide variety of breads, from regular sliced bread to baguettes to ciabatta rolls. In my opinion, their breads are the most similar to "real" bread.

For fans of Oreos, Glutino offers a delicious gluten free alternative to the famous sandwich cookie. They taste almost the same, with a little more crunch. Glutino also offers a wide variety of other gluten free products, but I've found their sweets and cookies to be the best in taste and quality. 

Like many of the other companies on this list, Sunrise sells a myriad of gluten free snacks. However, their cereals are so tasty. I love cereal, and I've found most gluten free cereals to be bland and too crunchy. Yet, Sunrise makes cereals that are packed with flavour and have the same texture as "regular" cereal. My favourite is the Leapin' Lemurs, which is a great dupe for Reese's Puffs. 

Did you know that 8 out of 9 of Chex's cereals are gluten free? As I mentioned above, I love cereal, so when I found out that Chex cereals are naturally gluten free, I was so excited. Their cereals are great both in milk and as a snack to take with you to school or work. My personal favourite is the chocolate flavour, since it is both tasty as well as light.