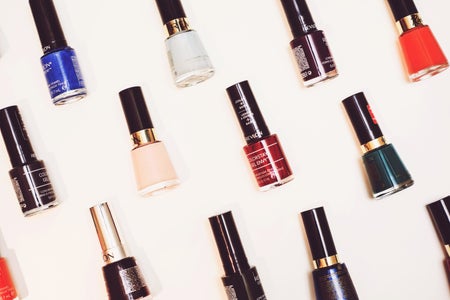 Kristen Bryant / Her Campus
Six Fresh Shades of Nail Polish for Spring
Spring has sprung! Well, almost. Regardless of the weather, springtime is on all of our minds, and preparations are underway. Spring is a time of sunlight, new growth, and, of course, lots of cute nail polish colors to choose from. Here are some of our favorites!
Blue is a classic for all seasons, but the combination of this gorgeous blue and white decals is pure springtime. It's a refreshing departure from the pastel Easter binary of pinks and yellows while maintaining the same brightness.

April showers bring May flowers, and May flowers make for some lovely color inspiration. This particular shade of rosy pink is neutral and adaptive to any flowery outfit!

3.

Warm Colors for Warmer Days

This amalgamation of warmer colors is cute and lively! Combining several shades on the same hands makes for a more interesting look and oozes the originality and growth that comes with springtime.

Purple is underutilized as a springtime color! Remind yourself of the decadence of such a lovely color by looking to a lilac bottle of nail polish this season.

This green shade at first glance is perhaps more of a winter color than spring. But look again! Green is the perfect color to represent growth, and this shade in particular is reminiscent of calm springtime evenings.

Last is a timeless classic: red nails. Though this color is a great choice anytime of the year, in springtime the shade recalls blossoming flowers and the tenacity of new life!
Springtime style is a bright return from the sometimes dark and heavy winter season. Those first few days of spring weather make a lot of us want to yell with joy. This year, let your nails do all the talking!