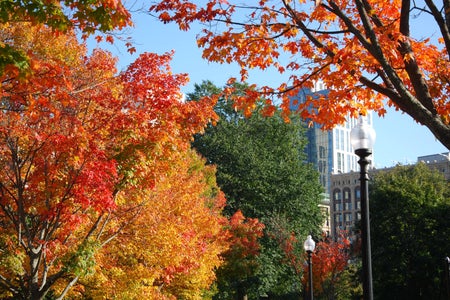 A Relaxing Day at Central Park
This weekend, I decided to get out of my dorm room and go outside for once. With the pandemic going on, there really isn't that much to do in New York City and it's been a challenge to find new adventures while still staying safe. So, I decided to plan a safe, fun and relaxing day at Central Park with my friend. Hopefully, my trip to Central Park will give you some ideas on how to explore the city safely!
We started off taking the 1 Train down to 79th Street, where we walked towards the park and passed the beautiful American Museum of Natural History. Tickets for the museum were around $12. We would have visited if not for the fact that we were both broke college students. We spontaneously decided to buy a disposable camera at a Duane Reade, and within minutes, we had stepped into the natural paradise of Central Park. 
After five months in the city, it was actually my first time exploring Central Park. I had heard so many wild stories about what goes on in the park and I was excited to finally see it for myself! 
We started walking eastward, passing by a series of benches with romantic inscriptions on them, from proposals to declarations of undying love — all were permanently inscribed on a cute little green bench. Honestly, seeing this was one of the coolest parts of the day. 
Maybe it's because I'm a newcomer to this city, but I have an inexplicable fascination with New York's pigeons and squirrels. They're just so... ballsy. I'm also not used to seeing squirrels everywhere I go, so it amazes me when I see those adorable creatures run about the streets. While walking through the park, we saw a black squirrel dart across our path. I had never seen one before, so naturally,  I freaked out. I pulled excitedly at my friend's arm as we watched him crawl up a tree. 
A stranger and his dog approached us, telling us that seeing a black squirrel is actually a good omen. He proceeded to lecture us for the next 20 minutes by dissing Gen Z, expressing his boredom for New York and analyzing our astrological signs. (I learned that as a Taurus and a Pisces, my friend and I are very compatible.) It was a strange encounter and when he finally disappeared around the corner, my friend and I were left wondering what the hell had just happened.
We continued on our way, walking past the Shakespeare Garden and the Belvedere Castle before heading down to the Loeb Boathouse. 
As we walked around the Frozen Lake, I was so excited over every little thing that I must have annoyed my friend. I had never seen a frozen lake before, so we sat next to it for a few minutes, watching the ducks splash their way around the thin ice. 
We headed over to Bethesda Terrace, where we saw a couple taking their engagement photos and a group of incredibly talented street performers. It's such a peaceful feeling to sit in the chilly winter air and watch people perform on a quiet afternoon. There was a guy playing the drums, laughing and cheering as he watched the small dance party that had begun to surround him. My friend and I sat at the benches for a while, just vibing to the music and watching strangers shamelessly dance like no one was watching. 
As we continued south, we ended up at the Wollman Rink. It was a dream of mine to go skating during a New York winter, but the cautious and paranoid part of me knew it wasn't the safest thing to do during a pandemic. 
While my friend and I continued on our way, I was suddenly jump-scared by a grown man dressed in a huge rat costume. I leaped aside in surprise, holding my breath as the man crawled towards me as if trying to sniff me with his plastic rat head. I burst out laughing, my heart still pounding from the jump scare. We later realized it was the infamous NYC Rat Man. My friend and I prayed we would end up in one of his TikToks. Honestly, the best things at Central Park are unplanned for. You just have to wander about and let the city do it's thing. 
We ended the day with a great meal ordered from Diana's, one of Barnard's newly reopened dining halls! Overall, the day was a much-needed getaway from the stresses of the new semester. My friend and I took a bunch of film that I'm excited to get developed! Some people will say it's overrated, but I think Central Park is absolutely beautiful. You'll never run out of things to do there!