5 Thrift Stores to Hit Up for Spring
As the weather warms, we can finally start to break out our old spring favorites: high waisted shorts, crop tops, sandals, and floral dresses galore. I don't know about you, but my warm-weather wardrobe is in need of a serious reboot - even a few new items can give me that spring in my step that comes with the season! How to revamp your look without breaking the bank? Thrift shopping! Here's a list of my 5 favorite stores to get great stuff on a budget, so you can feel as fly as Macklemore.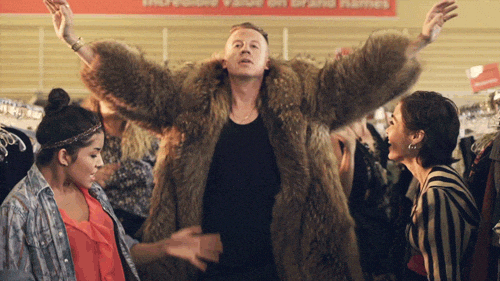 1. Housing Works
Housing Works is amazing because it's an ideal mix of vintage and modern clothes, as well as a mix between designer and just cute, cheap stuff. Everything is in great condition, and priced very fairly. Past finds include: Seychells loafers for $20, BCBG shoes for $30, a Kate Spade bag for $40, a cute striped XL Old Navy T-shirt that I wear as a dress for $5, a Ralph Lauren quarter zip for $10, black leather pants for $30, and lots of mason jars for like a dollar each. The best thing about Housing Works is that there are 13 locations as well as a bookstore, and they all carry totally different things - plus, all the employees are volunteers, and their profits go towards providing aid for the homeless and people living with HIV/AIDS.
2. Beacon's Closet
Beacon's has four locations - Greenpoint, Park Slope, Buschwick, and one near Union Square. Obviously I go to the one in Manhattan because it's closer, but they're all great. Let's get this straight: Beacon's is AMAZING. AH.MAZ.ING. They have ridiculously cheap things, but they're all super cute and mostly designer-y. Plus they inexplicably have a great selection of new jewelry, sunglasses, and hosiery among all the new items. Past finds include: White Nike Dunks for $20, Jeffrey Campbell Litas for $20, a Madewell long-sleeved tee for $10, True Religion jeans for $15, and a super cute sweater crop top that I wore to Bacchanal for $5.
3. No Relation Vintage
No Relation is a good old-fashion thrift store. There's almost nothing designer about it, except maybe the shoe selection, they have crazy sequin dresses from the 80s, and everything smells slighty musty. BUT they have the best high-waisted jeans selection I've ever seen - we're talking pre-cut, light wash Levi's that people would pay $50 for at Urban Outfitters - awesome flannel shirts, and super cool Fresh Prince style windbreakers. Not to mention their shoe/boot selection is ON POINT. [Almost] everything I've ever bought there was less than $10. Past finds include: High-waisted Levis for $5, Men's flannels for $5, a 70s peasant blouse for $5, a Patagonia quarter zip for $15, cool boyfriend-fit overalls for $10, Topshop burgundy leather booties for $20, Nike Dunks for $15.
4. Greene Street Consignment
In my experience, Greene Street has a little less of a selection, but I think it's because the store is much smaller compared to the others listed, and a lot of the items are like mom/grandma clothes. That being said, there are real amazing gems and there's a quick turnaround time for new product - I try to stop in every couple weeks to see what's new! This one is a bit more expensive than the others because it's consignment and not thrift, but the quality and amount of designer product is often higher. Previous finds include: brand new white Converse for $20, Black and red Nike running shoes for $20, a Topshop bandage dress for $5, J. Crew Wedges for $5, a Banana Republic v-neck t-shirt for $5, a Coach satchel for $30.
5. The Cure Thrift Store
Like Housing Works, the Cure works for a good cause: their profits go towards juveline diabetes research and advocacy. In addition to helping New York be a better place, the Cure has an AWESOME selection of stuff, all super super reasonably priced. It's a good mix of different types of clothes, but it's less vintage and mostly very current clothing that people just no longer want. They have a beautiful jewelry selection and awesome cowboy boots. Previous finds include: black Tory Burch ballet flats for $20, a real turquoise and silver ring for $30, a brown pleather pleated H&M skirt for $15, a white lace crop top for $5.