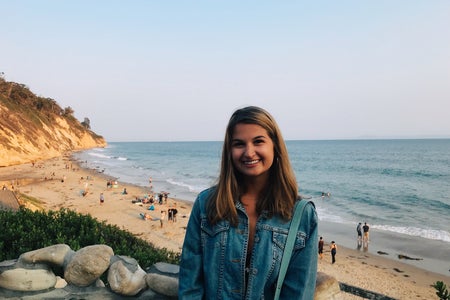 Meet the HC Colby Team: Sydney Koeplin
Sydney is this semester's president here at HC Colby! Outside of Her Campus, she is co-captain of Colby Dance Company, a barista in the Mary Low Coffee House, and a research assistant in the Religious Studies department. Sydney is a German Studies and English: Creative Writing double major who spent fall semester studying in Freiburg im Breigsau, Germany. While she loved eating her way around Europe, she's excited to be back on the Hill this spring. 
What is your favorite… 
Dining hall? Foss!
Place at Colby? Mary Low Coffee House
Thing to do at Colby? Spend hours doing "homework" with my friends in the SPA and dance with Colby Dance Company. 
Movie? Wonder Woman
Song? This one is hard. Either "The Chain" by Fleetwood Mac or "Knowing Me, Knowing You" by ABBA. Don't make me choose between the two bands, I can't!
Thing to do off-campus? I love exploring different cities around Maine. Portland and Camden are two of my favorites!  
What is your dream job? Ideally, I'd like to be a successful author or essayist. A girl can dream, right? I'm currently looking at internships in the publishing field, either editing or marketing, so those two jobs are interesting to me right now. We'll see where I end up!
What is your best Colby memory? I led a COOT during my sophomore year, and during our training trip we watched the sunrise on top of Cadillac Mountain in Acadia National Park. It was one of the most beautiful things I have ever seen. 
Fun Fact! I played the tuba for four years!