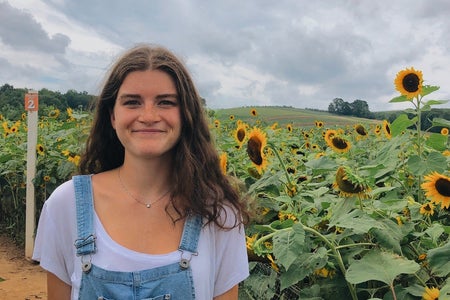 Meet the HC Colby Team: Maddie Squire
Maddie is one of our social media heads here at HC Colby! She is majoring in English and minoring in Cinema Studies. Outside of class and HC, she is a mentor for Colby Cares About Kids and works for admissions (catch her leading info sessions in Lunder). 
What is your favorite… 
Dining hall? Foss
Place at Colby? Third floor miller! Lol ~jk. I really like visiting the museum and sitting on Miller quad (when it's warm).
Thing to do at Colby? I love picnicking (preferably with food from The Green Spot) at Johnson Pond or the Hume Center.
Movie? Midnight in Paris
Song? "April Come She Will" by Simon & Garfunkel
Things to do off-campus? I love going to Portland, although I always end the day much poorer than I started. My favorite stores are Find, Blanche & Mimi, and Gus & Ruby Letterpress. I also recommend stopping by Whole Foods to stock up on snacks on your way out. Also! The Common Ground Fair is a treasure that everyone should attend at least once.
What is your dream job? I would love to be a television writer. 
What is your best Colby memory? My COOT trip was really memorable. I went backpacking on Sugarloaf, and my COOT fam became super close. We still sometimes get dinner together.
Fun Fact! I have my black belt in taekwondo.