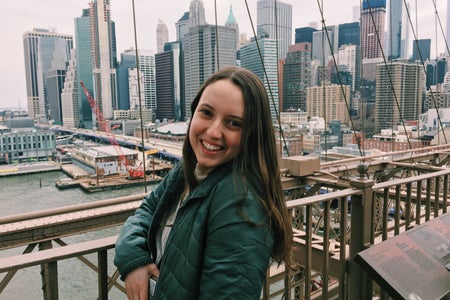 Original photo by Sarah Ehrlich
HC Colby Profile: Meet Sarah Ehrlich
Sarah is one of our writers here at HC Colby! She is a senior from Westchester, New York majoring in psychology and minoring in art.  
What is your favorite… 
Dining hall? Dana. I lived in Bob's freshman year and still went to Dana for every single meal.
Place at Colby? The lounge on the second floor of the museum. The lighting in there is unmatched.
Thing to do at Colby? Sit by Johnson Pond!
Movie? The Truman Show
Song? Anything by Tori Kelly. Her voice is unreal.
Thing to do off-campus? Go to Augusta for Chipotle, Target, and TJ Maxx!
What is your dream job? I'm hoping to become a Pediatric Speech Language Pathologist.
What is your best Colby memory? Anytime my friends and I say we are going to a study space to study but we know all too well that we will end up making TikToks, practicing backflips, and doing anything but studying.
Fun Fact! I used to have a pet rat named Frosty. She was actually really cute and insanely smart!
Check out her articles here!