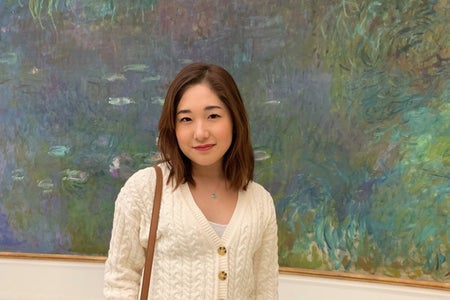 Original photo by Marina Takagi
HC Colby Profile: Meet Marina Takagi
Marina is this year's Events head at Her Campus Colby! She is a senior studying Art History and Global Studies with a human rights concentration. She is the manager and barista at Mary Low Coffee House, co-chair of the Museum Student Advisory Board, a member of the Asian Student Association, a research assistant for the Lunder Institute of American Art, and a member of Colby Dancers!
What is your favorite… 
Dining hall? Dana for breakfast and Foss for lunch/dinner!
Place at Colby? Mary Low Coffee House
Thing to do at Colby? Making yummy drinks at Mary Low or wandering the galleries of the Museum!
Movie? Hmm this is a hard one. Probably Amadeus or Black Swan.
Song? This changes every day! But my all-time favorite is probably "Halo" by Cage the Elephant. 
Thing to do off-campus? Since I have a car on campus this year, I love exploring different parts of Maine and then eating out afterward :) Most recently, I went to Rockland and had the most delicious carbonara. 
What is your dream job? I'd love to be an owner of a really cool art gallery in New York City (think: Rufus from Gossip Girl!)
What is your best Colby memory? Seeing my first shooting star over Johnson Pond in October of my freshman year 
Fun Fact! I was born in Tokyo and lived there until I was 8! I still speak Japanese at home.