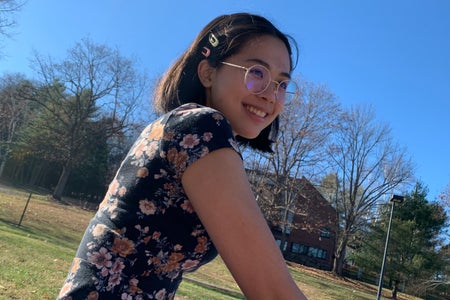 Original photo by Jade Ma
HC Colby Profile: Meet Jade Ma
Jade Ma is one of our writers here at HC Colby! She is an Architecture and Urban Design Independent Major with a concentration in East Asian Studies. She is also on the Student Programming Board, volunteers with Lives of Purpose, and is a research assistant in the Education department!
What is your favorite… 
Dining hall? Dana all the way.
Place at Colby? In the art museum. Always brings me awe to just be in a place surrounded by art. You can look at the same pieces over and over and never get tired.
Thing to do at Colby? Sit outside on the lawn with friends and just bask in the sun for the few days when the weather is nice.
Movie? 10 Things I Hate About You or Ocean's 11. I love a good early 2000s rom-com or an elaborate heist.
Song? Constantly changes, but currently "Janglin" by Edward Sharpe and the Magnetic Zeros, very fun.
Thing to do off-campus? Hike! Basic, but so so true. The nature in Maine is a beaut everywhere you go and really reminds me of home.
What is your dream job? Architect/Artist
What is your best Colby memory? Definitely Thanksgiving Break of my freshman year. I stayed on campus with great friends, playing games and enjoying the peace of campus. Also impromptu decided to cut off like 10 inches of hair in the bathroom of Treworgy with my friends which was a mess, but the best, most chaotic fun ever.
Fun Fact! I moved here all the way from Arkansas and have never seen so much snow in my life. I am amazed every time the snow blankets campus.
Check out her articles here!