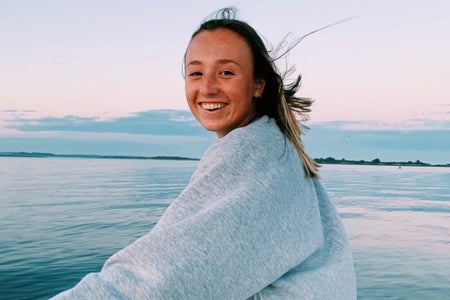 Original photo by Georgia Goodman
HC Colby Profile: Meet Georgia Goodman
Georgia is one of our writers here at HC Colby! She is an English and Art double major. 
What is your favorite… 
Dining hall? Dana! But you can't beat Bob's brunch on the weekend.
Place at Colby? Johnson Pond! So beautiful and relaxing. 
Thing to do at Colby? I love hanging out in the art museum or sitting in the spa people watching.
Movie? The Parent Trap
Song? "Speak Now" by Taylor Swift
Thing to do off-campus? Ski during Jan Plan! Or hike some fun mountains.
What is your dream job? I feel like it would be super cool to be a famous designer or stylist for someone, or be a skydiving instructor.
What is your best Colby memory? The fall in general! I love coming back to school and seeing everyone and also Maine falls are so beautiful. It is so fun to go apple picking or hike or just explore all around Maine in the fall.
Fun Fact! I love to fly fish!
Check out her articles here!