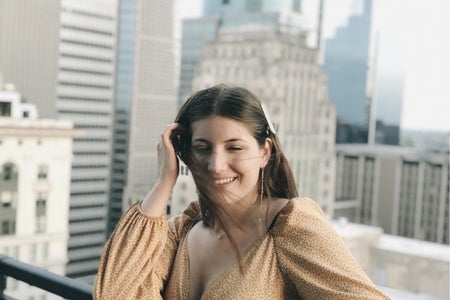 HC Colby Profile: Meet Blythe Romano
Blythe is one of our social media heads here at HC Colby! She is an American Studies major and a German minor who spent last fall studying abroad in Freiburg, Germany. In addition to writing and running social media for HC, Blythe is a research assistant in the American Studies department, and a tour guide at the Colby Museum! 
What is your favorite… 
Dining hall? Unpopular opinion, but Bobs.
Place at Colby? The art museum is by far my favorite space on campus. I love getting to look at all the new exhibits, or even just doing homework in the lobby.
Thing to do at Colby? Yoga class with Raya!
Movie? Midsommar.
Song? I always say the soundtrack to my life is "Karma Chameleon" by Culture Club.
Thing to do off-campus? Probably going out to eat. My Waterville favorites include Pad Thai Too, Jewel of India, and Buen Apetito. 
What is your dream job? My dream would be to run a fashion design empire akin to the Olsen twins or Talita von Furstenburg so that I could attend the Met Gala. But I'd also settle for just being able to work at the Met one day.
What is your best Colby memory? Ice-skating at Johnson Pond during my first-year JanPlan.
Fun Fact! I'm a Gemini (add me on co-star @blytheromano).