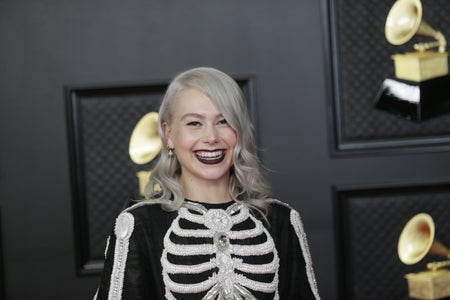 Photo by Francis Specker / CBS
If you're into dark, dreamy melodies and lyrics that cut straight to the bone, then I have the artist for you…
 Phoebe Bridgers is a 26 year old singer/songwriter based in Los Angeles, California. In 2017, she signed to label Dead Oceans and debuted with her critically acclaimed album, Stranger in the Alps. The song "Smoke Signals" from that album gained her popularity as she opened for Conor Oberset on his European tour. With lyrics like, "I buried a hatchet, it's coming up lavender," there is no denying her mastery. Her lyricism is exactly why she has become such a huge breakthrough artist in the alternative genre. Most people know her from her hit song, "Motion Sickness", a beautifully constructed break-up song that has over 69 million listens on Spotify. Her angsty lyrics, "I hate you for what you did and I miss you like a little kid," make this song very relatable to anyone who has had to deal with the "emotional motion sickness" of dating in your 20s.
In the midst of a pandemic, we received another musical gift from Phoebe, her sophomore album Punisher. The dreamy, melancholic indie-folk record we needed as we stayed home staring at the ceiling. From the gut-wrenching self-comparison of her waiting around "like a dog with a bird at your door" in "Moon Song" to the apocalyptic journey of "I Know the End", tears form thinking of the pure genius that was put into this album. Punisher's impact has made Phoebe Bridgers a four time Grammy nominee. One of the Grammy nominations being best new artist, a well deserving nomination giving her track record and growing success. 
Phoebe has gained a lot of media attention since her Saturday Night Live performance where she smashed a guitar (or tried to). She received a lot of negative reviews despite guitar-smashing being a practiced rock and roll trademark. However Phoebe remained unbothered, posting on Instagram a picture of her smashing the guitar captioned, "got some really great feedback from my performance! Next time I'll just burn it and it will be more expensive."
Phoebe Bridgers is a big fan of collaborating with other artists, from The 1975 to Kid Cudi. In 2018, Phoebe Bridgers collaborated with musicians Lucy Dacus and Julien Baker to form Boygenius. They released a six track EP and toured the US together. You can watch their magical Tiny Desk Concert here. In 2019, Phoebe and Bright Eyes' Conor Oberst formed into a band called Better Oblivion Community Center and released a self titled album. Each of her collaborations are beautifully executed, however one of my personal favorite collaborations took place during elections. after Phoebe Bridgers tweeted, "if Trump loses I will cover "Iris" by the Goo Goo Dolls." Sure enough Trump lost and Phoebe collaborated with artist Maggie Rogers and donated money made from the song to Fair Fight Action. Towards the end of her career defining year in 2020, Phoebe Bridgers announced that she created her own record label, Saddest Factory. The first person signed to the label was Claud and you can listen to their recently released album here. 
Phoebe Bridgers' most recent additions to her discography are spotify singles, which included an even sadder version of her song "Kyoto" and a cover of "Summer's End" by John Prine. Phoebe Bridgers is definitely an artist you want to keep an eye out for, and she has shown us that she is only going to get bigger and brighter.