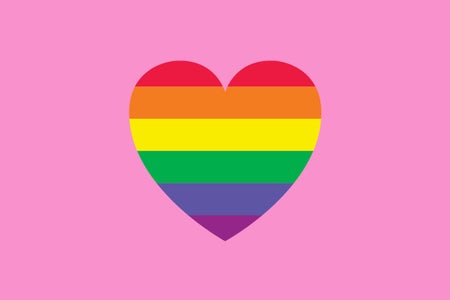 Original Illustration by Her Campus Media
Queer representation in entertainment media isn't easy to find. Even though more movies and shows are including openly LGBTQ+ characters, there still isn't enough to break the barrier of heteronormativity. This holiday season, things are changing.
Actress Kristen Stewart is starring in a Hulu original movie called Happiest Season, a holiday romantic comedy about a lesbian couple who must hide their relationship from conservative parents. Rom-coms predominantly depict heterosexual couples, but those relationships don't represent everyone. This new movie, which will be available to stream on November 25, is one of the first holiday films to have an all-star cast and LGBTQ+ representation.
Stewart publicly came out as gay on live TV when she hosted Saturday Night Live in 2017. In her opening monologue, she joked about a series of tweets from President Donald Trump in which he expressed his dislike for her.
"The president is not a huge fan of me, but that is so okay," Kristen said. "And Donald, if you didn't like me then, you're probably really not going to like me now because I'm hosting SNL, and I'm, like, so gay, dude."
According to Harper's Bazaar, Stewart is thankful for younger generations who helped her feel comfortable and confident enough to share her fluid sexuality with the world. She now does not see the need for labels on her sexual orientation.
"I just think we're all kind of getting to a place where – I don't know, evolution's a weird thing – we're all becoming incredibly ambiguous," she told Bazaar. "And it's this really gorgeous thing."
Stewart also believes she has a responsibility to set an example for the LGBTQ+ community because of her prominence in the media. In the same interview, she admitted she had been told to hide her relationships with women in order to help her career, so she stopped working with the people who wanted her to be someone she wasn't. It was hard to come to terms with being thrown into the public's eye, especially when entering a new relationship, but Stewart has learned hiding will get her nowhere.
Stewart, 30, was thrown into the spotlight when she landed the role of Bella Swan in the The Twilight Saga based on the Stephanie Meyer novels. She had been an actress since she was 10 years old, but starring in Twilight at the young age of 18 gave her a jump start in Hollywood. As the mysterious vampire Edward Cullen fell in love with Bella Swan, the world watching in theaters fell in love with Kristen Stewart. Two years after the first Twilight movie came out, Stewart was named the world's highest paid actress in 2010. She even reclaimed the title in 2012 after the final film of the series came out.
She starred in a number of blockbuster movies including Panic Room (2002), Snow White and the Huntsman (2012), and Charlie's Angels (2019). After The Twilight Saga ended, Stewart decided to focus on smaller, indie films, and she even directed a short film titled Come Swim, which premiered at Cannes Film Festival in 2017. However, according to The Guardian, Stewart believes her film would have never been shown at Cannes if she was not a well-known actress. She noticed that making it big as a director is harder for women.
"It's hard to talk about, because you need to talk about it to change it, but at the same time it's like, 'Just do it,'" Stewart said about the need for more women behind the camera.
Stewart hasn't decided if she will pursue directing in the future, but as of now, she wants to focus on LGBTQ+ representation in movies. Her character in Charlie's Angels was "definitely gay," according to director Elizabeth Banks.
Stewart is also InStyle Magazine's November cover person, and she discussed how personal her upcoming movie is to the experiences of LGBTQ+ people. She hopes Happiest Season will resonate with everyone, not just those who identify as LGBTQ+.
"Retrospectively, I can tell you I have experience with this story," Stewart told InStyle. "But back then I would have been like, 'No, I'm fine. My parents are fine with it. Everything's fine.' That's bulls***. It's been hard. It's been weird. It's that way for everyone."
If you're looking for a new holiday rom-com to delve into, be sure to check out Happiest Season on Hulu this Thanksgiving.