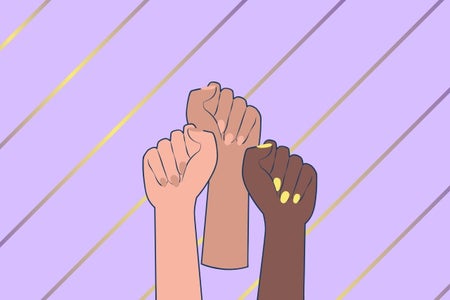 Original Illustration by Gina Escandon for Her Campus Media
You probably recognize Gloria Steinem as the face of the 1970s feminist movement, with her hair tucked into the frames of her aviator glasses. One of the most iconic photos of Steinem depicts her standing beside fellow feminist Dorothy Pittman-Hughes as they raise their fists in the air. The image is now a prominent part of the feminist movement. The pair recreated it 40 years later, in 2014, to let the world know the fight for equality is far from over.
According to the National Women's History Museum, Steinem began her career as a journalist in New York who struggled to be taken seriously by her male colleagues. She was told to write lifestyle and fashion pieces because she is a woman, but she preferred writing hard-hitting, socio-political essays. In 1963, she wrote an exposé about her experience as an undercover Playboy Bunny to uncover the misogyny the women at New York's Playboy Club had to experience. The story, titled A Bunny's Tale, was published in Show Magazine, and it revealed how underpaid and overly sexualized the women were. Despite the popularity of the article, Steinem's career as a reputable journalist took a major hit.
Five years later, Steinem became a reporter for New York Magazine. She covered political topics, specifically the feminist movement. It wasn't until 1969 that Steinem became an activist. She openly spoke about an abortion she had when she was 22 years old in hopes that her story would persuade others to be pro-choice. It was at that speak-out event that she realized the need for a women's liberation magazine. Thus, Ms. Magazine was born. In 1970, Ms. became an extension of New York Magazine, and a year later, it became its own publication. Ms. was one of the first print magazines to discuss women's issues like domestic violence and reproductive rights. 
Steinem's fight to legalize abortions continued in 1972 when she spoke at the Democratic National Convention. She is the reason the topic of abortion was discussed at the convention that year. In addition, she was a pioneer in the fight to legalize same-sex marriage and normalize the use of contraception.
Steinem also founded the National Women's Political Caucus alongside fellow feminists Bella Abzug, Betty Friedan, and Shirley Chisholm to get more women involved in politics. According to her website, Steinem co-founded a number of other non-profit organizations including the Ms. Foundation for Women, the Free to Be Foundation, and the Women's Media Center. All of these operations aim to empower women and their stories.
Additionally, before the Senate passed the Equal Rights Amendment in 1972, Steinem testified on the Senate floor. She shared stories of her own experiences with gender discrimination.
"I have experienced much of the legal and social discrimination reserved for women in this country," Steinem said in her testimony in 1970. "I have been refused service in public restaurants, ordered out of public gathering places, and turned away from apartment rentals; all for the clearly-stated, sole reason that I am a woman."
After the initial passing of the ERA, Steinem and a team of leading feminists traveled across the country to get at least 38 states to ratify the proposed amendment in order for it to become part of the Constitution. Despite the widespread support, it took over 50 years for 38 states to ratify it, and it is still not an official amendment.
Clearly, the 1970s were some of the most prominent years for Steinem. During that decade, she became the first woman to speak at an event hosted by the National Press Club. She was also one of the first feminist activists to recognize the importance of intersectionality, even though the term had not yet been coined. In her speech, she said: "The real nitty-gritty comes here, for both women and minority men. They are unlikely to be put in a position of authority over white men. How many women or Black city editors have you met?" She publicized the fact that women are not the only people being oppressed.
Today, she is the author of 10 books, her most famous one being My Life on the Road, an autobiography about her life as an activist, a writer, and a traveler. Steinem, now 86 years old, is still using her platform to fight for equality. In an interview with NPR, she said reproductive rights, including access to safe, legal abortions, are some of the most urgent issues women are facing today.
To learn more about Steinem's life, check out Mrs. America on Hulu and The Glorias on Amazon Prime.