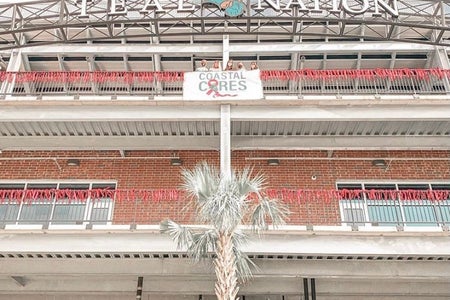 Photo by Gamma phi beta at Coastal Carolina University
Ways to Raise Breast Cancer Awareness
With October closing out, it is important to reflect on Breast Cancer Awareness and look forward to seeing what you can do year-round to acknowledge the threat of breast cancer.  Early this month we published an article on how to self-check for breast cancer.
However, there is still much work to be done to promote overall awareness of the disease. Here are some examples of how you can get involved including organizing activities, walks, talks, etc. all to open the discussion. 
1. Donating to research: You can always donate to research more on cancer through donations to organizations. While doing something like this may seem insignificant, any contribution can go a long way towards change in the future and is incredibly needed and appreciated by credible organizations such as…
- Breast Cancer Research Foundation
- National Breast Cancer Coalition 
- Breast Cancer Prevention Partners 
2. Displays of Awareness: Just this month here at Coastal Carolina University, the National Panhellenic Conference organization Gamma Phi Beta took of the task of the ribbons in recognizing those who had been affected by the disease and displayed them outside of Brooks stadium. This really showed how large-scale the disease can affect the population as the entire two rows of ribbons were filled. 
3. Have discussions: Another idea to raise awareness is to host a simple open discussion talk among individuals. Talks like these while they may not seem important can truly make someone feel more comfortable and open with the topic and in turn, save a life. 
Participating in a walk: Hosting or simply participating in a walk that honors or is in memory of an individual who has been affected by Breast cancer is another way to raise awareness. Current Coastal Carolina University freshman, Brooke Schuler, knows a lot about this idea to raise awareness as she has put together a team in honor of her mother for the past three years as apart of the Making Strides Against Breast Cancer Walk. Schuler organized Team Barb for her mother after her mother was diagnosed with breast cancer in May of 2018 and was still fighting cancer that October. The walk gave Schuler and her family a sense of hope and they appreciated how the community came together. Her mother is currently in remission and doing well, however, she has kept the annual walk tradition with her team going as a way to promote awareness, and give back to those who are not as fortunate. Scholar remembers feeling helpless when her mom's diagnosis was confirmed and she didn't know what to do. She says, "you always know people go through awful things like cancer, however until someone so close to you has to fight it, you don't look at it the same." She also recognizes that while fighting cancer is awful, her mother was one of the lucky ones in the sense that she could afford the necessary treatments, which not all individuals with breast cancer can. The walk serves not only as a way to raise awareness but also as a way to help those in need with financing their treatments so they can get healthier.  Click here to donate to Team Barb.