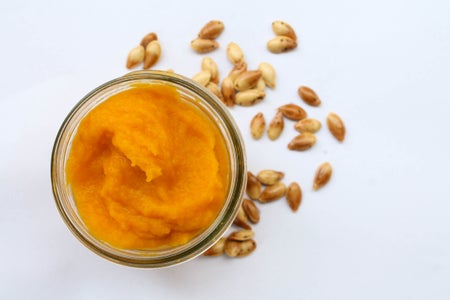 Alyssa Robertson Case / Spoon
Starbucks Fall Drinks Rated 2019
On August 27th Starbucks started serving up their Fall beverages. Not only did they have their usual pumpkin drinks but this year they decided to try something new. Since everyone has been on a cold brew craze, the company decided to experiment with their cold brew. They introduced Pumpkin Cream Cold Brew alongside their usual Fall lineup.
As any good friend would, I decided to make it a group effort. After picking up all of the drinks I sent out a couple of texts to see if anyone was free to taste-test some coffees. Immediately I had a reply from Lily and she and her friend Joe met me at Starbucks to rate the drinks. We ranked them on a 10-point scale starting with the newest Fall drink.
Pumpkin Cream Cold Brew
Overall it was a good drink. It didn't have a strong pumpkin flavor, but it wasn't bad. I think that it was the perfect balance between coffee and pumpkin. It is perfect for the person who is going out with a bunch of people who are getting festive drinks and doesn't want to stick out by not having a fall drink but isn't overly enthused by pumpkin.
Lily - 6
Michelle – 5
Joe - 7 (not a spooky drink), (chuggable)
Salted Caramel Mocha Frappuccino
This was delicious. Definitely couldn't handle getting a venti or trenta of this but it was delicious. It was sweet with a hint of the coffee flavor. It was a little bit nutty too. Definitely a sweeter drink but I think the ratings speak for themselves. It's the perfect drink if you don't know what you want.
Lily – 8 (good, but a little too sweet)
Michelle – 6
Joe – 5
Pumpkin Spice Latte
Okay so I'm going to admit something, this was my first pumpkin spice latte. I know, it's bad. But I was never really into anything other than pumpkin pie. Until now. This fall I've been on a crazy 'Fall Favorites' kick. So, I, of course, had to try the classic PSL. Initially, I wasn't too crazy. And then after the first sip, I tasted the pumpkin and all of the flavors together and was hooked. It would be better hot but since it was 90 degrees, I opted for the iced version. Next time I need to suck it up and get the hot version because if the iced version is this good, the hot version is guaranteed to be even better. If you haven't had a PSL like me (until now), please go out and try it.
Lily – 10
Michelle – 6
Joe – 4 (don't get it if you don't like pumpkin; not chuggable)
Caramel Apple Spice
Get this drink. I can't say it enough. It's the perfect drink. Any time of day, any weather. It comes hot or iced. It is basically really good apple juice with caramel, cinnamon, and whipped cream. I wouldn't get it if you don't like apple, but it tastes like a really good apple pie.
Lily – 6 (good but it'd be better as a candle)
Michelle – 8
Joe – 10