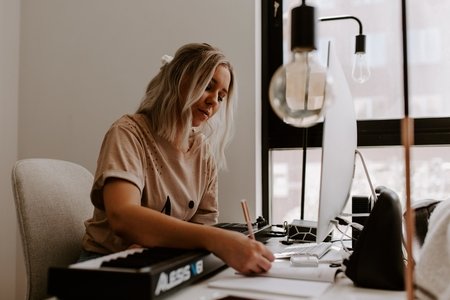 Listen to These 5 Songs to Pump Up Your Spring Break
Yes, you heard me right. Here are the songs to put the chilly pre-spring winds at bay, and make you feel like you're lying on the beach in some tropical destination while you're probably driving home battling gray rainy skies! 
Okay, I get it. Justin Bieber is the definition of mainstream and you're bound to hear this song 80 times if you still listen to the radio, but it gives me good summer vibes. I don't even know what it is because I'm not usually a huge Justin Bieber fan, but the cute melody and the beat make this song a blast to listen to!

All I can say is: YES! It's literally the perfect song for when the air gets a little warmer! It has such a fun guitar riff running through the chorus and a funky beat to have you playing it on repeat all break!

This might fit more into the bad b*tch energy hype songs you listen to as you lounge on the beach in the cutest bikini (or shop for it online while you watch Siesta Key), but it'll definitely hype you up!

I have been a fan of this song since it was released, I swear. This song is the cutest little hype-up song and puts a pep in my step even on the grayest days!

This song makes me want to throw open the windows in my room on a warm summer night and smell the hot summer air and hear the cicadas roar in the background. Something about it just has home-y vibe and makes me remember the family dinners we used to have out on our back patio with the smell of my dad grilling burgers and me and my brothers running around crazy in our backyard catching fireflies before setting the table. It's so cute and a good chill vibe for spring!
Hopefully at least one of these songs will set your spring break mood right!