How to Thrift Shop Like a Boss
Hey Macklemore, can we go thrift shopping?
Thrift shopping is a blast. Not only is it good for the environment but it's also a way to find some super cute stuff for a great price and make some money. You've probably seen a lot of girls start clothing Instagram accounts (check out mine- @shelbymozclothes #shamelessselfpromotion), but if you want to really make money, you've got to learn what sells and what doesn't. I'm going to give you a couple of tips so that you can find the best things for the best price.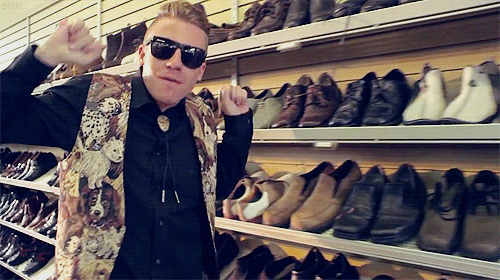 1. Know what to look for.
Well-known or designer brands sell well. Look for vintage clothing and denim especially. The athletic section is always a good place to start, as most thrift stores carry Nike or lululemon items for cheap prices. Look for clothing items without stains or holes. I've found that vintage t-shirts, denim, purses, and sweaters/jackets sell well. However, don't invest a ton of money in too many things at once because you don't want to be stuck with random clothes. 
2. Find out when the thrift store restocks.
For example, my local MegaThrift puts new things out on Thursdays, so I always go then to be the first to look at all the new pieces.
3. Clean out your own closet!
We all have that random sweater our grandmother bought us that still has the tags on it. Sell it! Someone online may like grandma sweaters. Look through stuff you already have and determine what you need and what you don't. Try to give away/sell two things for every new piece of clothing you buy. You'd be surprised how much money you can make from stuff you already have. 
4. Find a thrift store that has flat prices. 
Personally, I don't love places like Plato's closet. They're great for finding things that have already been sorted and labeled, but it kind of eliminates the challenge. Also, these places mark items based on their brand so nicer stuff is usually more expensive. At places like MegaThrift or Goodwill, everything is a set price based on its category, so if you do some digging, you can find some cool stuff.
5. Think of how the pieces work into your closet.
Don't buy that random Grandpa-looking sweater if you know you won't wear it. Buy pieces that would work with the clothes you already have. It's probably a good idea to buy things in your size at first so that if they don't sell, you can still wear them.
6. Look up trends online and find pieces that match them.
People always say one man's trash is another man's treasure. Truth. People give away some really cool stuff, and it's your job to find it. Go online and see what people are buying and then find things like it in thrift stores. I search Instagram for the latest trends and then get thrifting. 
7. Use platforms other than Instagram.
Sure, closet accounts are great, but you never know what you're getting. Try other apps like Poshmark (use my code "shelbs1001" for $5 free), Vinted, and Mercari. I've sold tons of things on these apps, and it's super easy. You take a picture, list an item, and ship it after purchase. If somebody buys it, the label is already created, so you don't have to pay for shipping! Another way to gain followers is to do a "giveaway." Buy a gift card or two and some cute items, and ask people to give you a shoutout or tag you toreceive the prize. Atthe end, randomly pick a winner. Giveaways bring people to your account and help get your name out there. 
8. When taking photos, make them aesthetically pleasing. 
Use a white or light-colored background and make sure the photos aren't grainy or filled with shadows. I have a mannequin at home, but at college, I take my own pictures using a command hook hanging on my door. If possible, model your clothing to show the people buying it what they're getting. Keep your account neat and organized. 
@shelbymozclothes
It is possible in a dorm!
9. Get crafty!
Grab a pair of scissors and get to work. Sometimes, I'll buy full-lengthjeans and cut them into shorts, or I'll find cool T-shirts and make them into tube tops. Get creative and make unique things.
10. Be smart with your money.
Make sure to keep a list of what you spend and what you make. Though you canmark the price of items up, don't make them outrageously expensive because they won't sell. 
11. Be patient (and have fun!)
Selling things online can be hard at first. I've been using Poshmark since I was 12, and I remember being so confused at first. Just stick with it and realize that it may take some time for you to start selling things. Lastly, have fun! Thrift shopping is a great way to save money and find some super unique stuff.