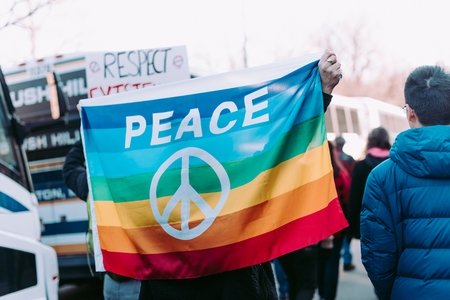 North and South Korea in Talks For Peace
At a historic meeting on April 25, South Korean President Moon Jae-in and North Korean leader Kim Jong Un signed a declaration agreeing to work for the "complete denuclearaization of the Korean peninsula." The agreement seeks to establish "permanent," "solid" peace, and marked the first time a North Korean leader had ever set foot in the South. A peace treaty has been one of the incentives North Korea has demanded in return for dismantling its nuclear program. The two countries have been at war for more than six decades.
Host Broadcaster via Reuters TV
The statement signed by Kim Jong-Un and Moon Jae-in read, "South and North Korea confirmed the common goal of realizing, through complete denuclearization, a nuclear-free Korean Peninsula". Days before the summit, Kim said North Korea would suspend nuclear and long-range missile tests and dismantle its only known nuclear test site.
ANSA
The two leaders agreed, through regular meetings and direct telephone conversations, to hold frequent discussions on vital issues, to strengthen mutual trust between the nations, and to jointly endeavor to strengthen the positive momentum towards continuous advancement of inter-Korean relations as well as peace, prosperity and unification of the Korean Peninsula.
To that end, President Moon Jae-in agreed to visit Pyongyang this fall.
AP