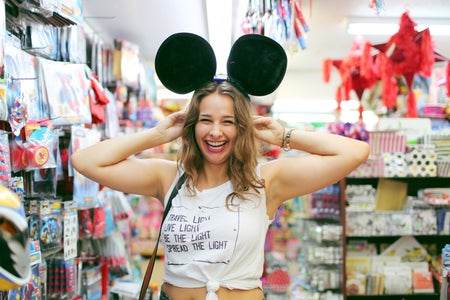 The College Girl's Guide to DCOMs
Once upon a time, there was a young girl, and she loved Disney Channel Original Movies (DCOMs). She would set reminders on her flip phone, put sticky notes on her planner and count down the time until High School Musical 2, Jump In, Geek Charming and countless other DCOMs premiered. That young girl was me. Now, with the creation of Disney+, I have been able to revisit and rewatch my favorite DCOMs, as well as discover new DCOMs. As a young woman, it's always fun to travel back to a simpler time, so I've written you a guide that will help you decide which DCOM to watch, next time you settle down to sift through Disney+.
1.

Know Your Favorite Era

Disney+ categorizes DCOMs by the 1990s, 2000s and 2010s. The best approach is to know your favorite era. When were some of your favorite DCOMs released? My favorite era is the 2000s, since those were the years during which I grew into adolescence. In the 2000s category, you get classics like The Cheetah Girls, Twitches and Cadet Kelly. By going through your favorite time period, you might stumble upon some forgotten gems, like Stuck in the Suburbs or Read it and Weep.

2.

Revisit Your Favorites

Start with what you know! One of the first DCOMs I watched on Disney+ was High School Musical because I knew I wouldn't be disappointed—and I wasn't! There's nothing wrong with starting off slow and then trying out new stuff. Like other streaming services, Disney+ will recommend other titles, based on what you just watched. After High School Musical, Disney+ recommended other movies from the series, as well as other musicals I had only seen once (or not at all), like The Descendants, Lemonade Mouth and Teen Beach Movie.

3.

Big Titles Aren't Always the Best

Just because some DCOMs are popular doesn't mean they're always the best. Remember, all these movies are written, shot and edited very quickly, so you won't be watching a high-caliber film. The best DCOMs remain entertaining, despite the quick pace, and not all of these are big names. Yes, Camp Rock is a classic, but Let It Shine is also great, even though it didn't garner nearly as many viewers upon its premiere. Hate-to-love stories like Geek Charming are, well, charming, and the lesser-known Cloud 9 also fits that bill.

DCOMs don't just fall into one genre. There are action movies, musicals, family movies, love stories and even sci-fi/fantasy flicks. I would suggest starting with your favorite genre and then expanding your boundaries. Many movies, like Wendy Wu: Homecoming Warrior (a combination of fantasy and action), are genre-bending, so you'll eventually get a fair share of everything. Plus, if you pick a genre, Disney+ will eventually recommend some 2010s and 1990s movies like Avalon High or Zenon: Girl of the 21st Century, expanding the time period you originally selected.

5.

Ask Friends for Recommendations

Anna Schultz / Her Campus

The recommendations of streaming services are great, but the best source is your friends! Their favorite DCOMs are most likely not your own, so they might be new to you. When asking friends for recommendations, you're sure to get the cream of the crop.
Still not sure what to watch? Well, I recommend any and all of the films I've linked throughout this article! If you're ever in need of a rom-com, check out this guide.