#BodyPositivity: 5 Books with Amazing Body Positivity
A content warning before you start reading this post: I use the word "fat" to describe plus-sized characters. As a fat woman myself, I do not find the word insulting when I use it myself. Fat is simply the antonym of skinny. By using the word fat, I'm taking back the word. I do not support the connotations society presupposes, like lazy, ugly, dumb and more. I simply use the word "fat" as I would use the word "skinny" to describe a person's physical appearance. If you think "fat" is a bad word, ask yourself why. Have you internalized the connotations that Western culture and the media imply? If you are insulted by the word "fat," please know that I mean no harm, but this article might be triggering for you. Please practice self-care and do what is best for you.
This week at Her Campus at Chapel Hill, we're talking all about body positivity. To start off the week, I'm going to be recommending five books that are wonderfully body positive. I'm a huge reader, but there, unfortunately, are not a lot of books that don't perpetuate stringent beauty ideals. As a fat reader, this can be pretty alienating, but throughout my reading experience, I have found some gems. Now, of course, I haven't read every book out there, and I know there are some popular body positive books that I haven't read - Dumplin' by Julie Murphy is one of them. Here are five that I thought were wonderful and that present a larger idea of what "beautiful" really means.
1. Hunger: A Memoir of (My) Body by Roxane Gay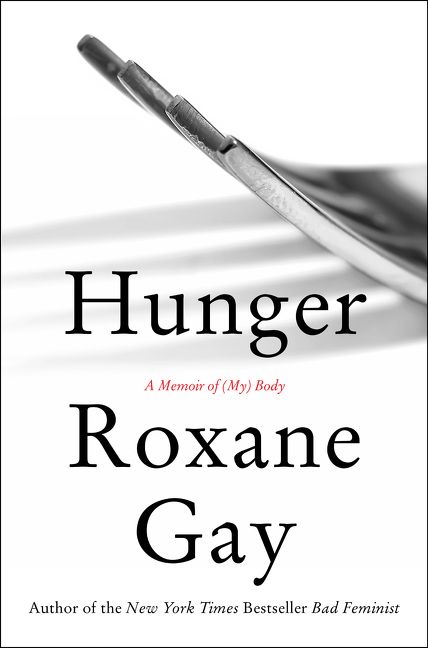 Goodreads
Roxane Gay's name might be familiar as she's a popular modern-day feminist, most well-known for her collection of essays, Bad Feminist. Hunger: A Memoir of (My) Body is, as the title suggests, a memoir in which Roxane Gay takes an in-depth look into fat-shaming in the United States. Gay unabashedly talks about her weight, making the book a must-read. I have never read anything so raw and honest before, and it made me really examine my internalized fat-shaming.
2. There's Something About Sweetie by Sandhya Menon
Goodreads
There's Something About Sweetie is an upcoming release by Sandhya Menon, which comes out on May 14. Now, you might be thinking, "Gennifer, how do you know this book is body positive if it's not even out yet?" Well, rest assured! I actually read an early copy of this. I received advanced reader copies of some novels because I have a blog. I request books before their publication date to review early, and There's Something About Sweetie was one of them. There's Something About Sweetie is a YA romance coming-of-age novel about Sweetie, a fat athlete who begins dating Ashish, a popular basketball player at a neighboring high school. Not only does the novel have fat representation, but the book is also not about losing weight or only feeling confident after the affirmation of someone else. Instead, There's Something About Sweetie focuses on self-love and being confident in yourself, both inside and out.  
3. Beauty Queens by Libba Bray
Goodreads
I read Beauty Queens almost two years ago, and I still think about it today. The novel by Libba Bray is completely satirical, as it follows an airplane full of beauty queens which crashes on a deserted island. There's a lot to unpack in Beauty Queens: sexuality, modesty and intelligence within the beauty pageant world to name a few. There's also a great focus on what it means to be beautiful and how the beauty pageant world can constrict women to feel like there is only one way to be beautiful. Above all, Beauty Queens is a hilariously body-positive book, and I highly recommend listening to the audiobook, as there were several times I laughed out loud because of the amazing performance. 
4. Leah on the Offbeat by Becky Albertalli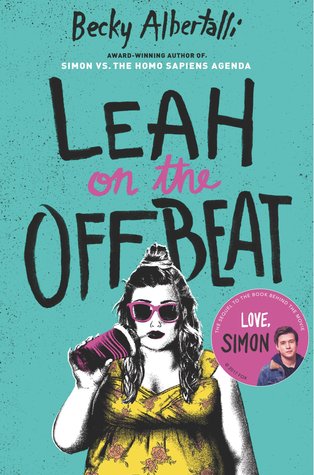 Goodreads
Leah on the Offbeat is actually a companion novel to Simon vs. the Homo sapiens Agenda, an m/m romance and coming of age novel that took the YA world by storm. The novel recently received a big screen adaption, Love, Simon, which I highly recommend. Leah on the Offbeat follows Simon's best friend, Leah, an unabashed fat rocker chick who deals with everything that is high school while harboring a crush on one of her best friends, Abby. What I loved about Leah on the Offbeat is that the focus wasn't on Leah's weight, it was a non-issue. I get so tired of reading books with fat protagonists where the focus is solely on their weight. It's nice to just have a coming of age high school romance with a fat protagonist where weight isn't a problem or a plot point.
5. Cream of the Crop by Alice Clayton
Goodreads
Last, but not least, is Cream of the Crop by Alice Clayton. Now, I know what you're thinking: that cover is cringey! Yes, yes it is. But it is also hilarious, which perfectly encapsulates the book. I'm currently listening to the audiobook of Cream of the Crop, so while I can't discuss the entirety of the book, what I've read so far has been amazing. Cream of the Crop follows 20-something Natalie Grayson, an NYC it-girl (who just happens to be fat) who starts a relationship with a small town (and very hot) dairy farmer. Natalie Grayson accepts all of herself - her large personality, aspirations and, yes, her size. I love reading about a protagonist who has no qualms about her body and is confident. Do I want to be like Natalie when I'm her age? YES. And it's novels like these that help me get there.
So those are the five books I recommend with wonderful body-positive messages! Remember, body positivity is not just accepting fat people, but also not shaming them as well. While that's a huge aspect, body positivity is about accepting everyone of all shapes, sizes and looks. If you find yourself judging someone else's appearance, check yourself! Bringing other people down achieves nothing, but by lifting people up, you can make the world just a little bit better.
Thanks so much for checking out Her Campus at Chapel Hill this week, and be on the lookout for more body positive content! HCXO!