Teyana Taylor Launches Junie Bee Nails
Recently, singer and actress Teyana Taylor launched her very own nail salon, Junie Bee Nails. Junie Bee Nails, named after Teyana's daughter Iman Jr., is a 90s themed nail salon in Harlem, New York. Harlem is also Teyana's old stomping grounds, so it seems most fitting for her to choose that location. Teyana took to Instagram a few weeks ago to spread the news about the upcoming debut of the nail salon saying, "I'm thinking of a master plan...💡 A 90's Themed Nail salon in Harlem! The vision has finally come to life and it's ready! 🗣So come one, come all! Junie Bee Nails is granting a dope opportunity to the flyest nail techs, from around the way."
The grand opening was held at the Junie Bee Nails location with numerous celebrities in attendance, including Lil Kim, Teyana's husband Iman Shumpert, and Missy Elliot. Teyana hired nail technicians from her own neighborhood along with other celebrity nail technicians such as @fanessnails, @mianailsdid, and @sakiyna_. All of the technicians seem super excited to have the opportunity to work in the 90s themed salon; they've been repping hard on their own Instagram accounts and posting the Junie Bee logo on their pages.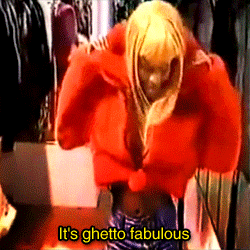 We've known about Teyana's love for the 90s since way back in the day when she was on the MTV teen reality show My Sweet Sixteen, but we're so excited that she's becoming versatile in her recent acquisition. We also love a black owned business! You can get a quick behind the scenes look at the making of Junie Bee Nails here. You can also take a look at the official salon Instagram page where the nail technicians are already showing off their talents less than a week after its grand opening. We also got a look at the inspiration behind the salon: actresses Halle Berry and Natalie Desselle from the 90s flick B.A.P.S, the infamous track star Flo Jo (Florence Joyner) and Lil Kim alongside Missy Elliot and Method Man are all featured on the Instagram page. 
We're so proud of you Teyana and we look forward to your future endeavors!