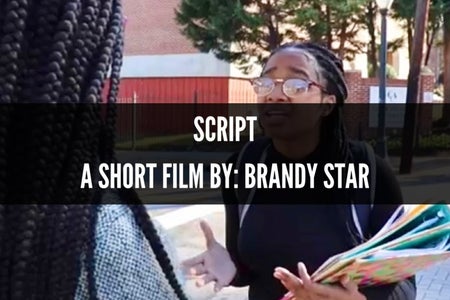 Brandy Star, Jalondra Jackson
SCRIPT: A Short Film by Brandy Star
Within the last decade, American society has begun to gradually make social media one of its top priorities. Outside of being a daily routine, social media has also become an automatic source of information when tragedy strikes allowing many,  to be updated on the world's current events. As a result, this has caused unfortunate subconscious desensitization of information in society. 
I can recall as early as 2014, a 12-year-old girl was stabbed 19 times by her friends. In 2018, a 13-year-old girl was stabbed to death at a sleepover by her friend. In 2019,  a 21-year-old Clark Atlanta University student was killed by her roommate and boyfriend. Some of these cases whether solved or unsolved have been broadcasted through many media outlets. All of these young women's personal legacies were, unfortunately, an afterthought. 
I recently had the pleasure and honor to view the short film SCRIPT followed by an up-close and personal interview with the film's writer and director, Brandy Star Merriweather. SCRIPT centers around the heartbreaking reactions within the CAU community due to the tragedy of fellow Clark Atlanta University Panther, Alexis Crawford's passing. Merriweather wrote the movie based off of the personal encounters with her peers, classmates, and reporters that were subconsciously dehumanizing Alexis Crawford. When I hopped on Zoom with the Clark Atlanta University Junior majoring in International Business, she had such a calm, humble, and tranquil aura. Keep reading for more on Merriweather's inspiration for writing SCRIPT and what it was like to participate in Campus Movie Fest.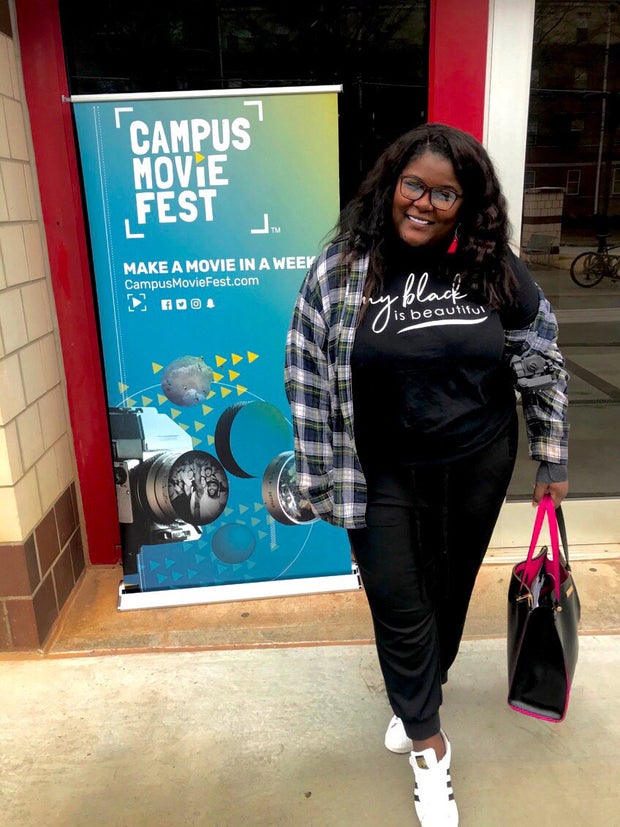 Brandy Star
HER CAMPUS CAU: So, before we start and just for the audience to know a little bit more about you, what are your plans post-graduation? By the way, Thank you for taking the time out of your day and busy schedule to speak with Her Campus on behalf of your film SCRIPT!
Brandy Star Merriweather: To continue to work in production, to possibly obtain a role with the legal department on set. Um, my end goal is to do legal so, I plan on climbing a ladder to a corporate company while also, you know, doing my stuff on the side.
HCCAU: Given your experience in PR, what other lines of work do you have an interest in?
BSM: Um, production and legal! I look up to women like Michelle Sneed and Lisa Bonner (who has become a successful attorney), they're both very skilled in everything production. So, I'm interested in gaining more PR skills, learning to create, write, produce and just getting more of an overall understanding of the business. And of course, having multiple streams of income.
HCCAU: What roles did movies or entertainment play in your upbringing and/or family?
BSM: Growing up, my grandmother had a movie collection (and she still does to this day). Whenever I went to her house, she literally would have stacks of Blockbuster movies. Everything from horror movies to the Rush Hour series. I just remember growing up and when I would go to her house that was the thing: basically that was a bonding moment with my cousins, sneaking and watching rated R movies. And I think just being that young cousin that was always around everyone else, had jolted my maturity and also my mindset and how I look at life.
HCCAU: As an African American woman, how do you feel about the rise of both women and African Americans in the media industries? How important do you think this is for the future black women creators?
BSM: I think it's so important. I think it's our obligation to continue the push for women to work in film. There are stories that need to be told that are not told from our perspective and I think that's the great thing about working in film, or you know, doing movies, or short films, is really being able to tell the story or perspectives and have other people relate to them. Even now, there's still an imbalance of women who are in executive roles. There's still progression to be made. Like I said, I think it's extremely important, it's our obligation to use the skills, talents, and gifts that God has given us to continue to pave the way for other women to do so, as well.
HCCAU: So we're going to talk about Campus MovieFest (CMF) now, from my understanding you had 5 minutes to create a short film, is that correct?
BSM: Yes, that is correct.    
HCCAU: I was actually going to make one but, things didn't work in my favor! But, what was your overall CMF experience like?
BSM: My experience was interesting. I was pre-planning with a group of guys that didn't necessarily see the importance of this for me. I promised myself that this semester I would get involved DIRECTLY on campus. And, that's when I decided to do CMF. I reached out to someone like me that was involved both on and outside of campus and I came in with my business and execution hat, and he was handling the creative aspect and we came up with an awesome idea. Then, I slowly stopped receiving messages and then, they all dropped out. I filmed, directed, edited, produced and found the actresses by myself and paid every actress. I budgeted myself the same budget I was going to use to film with the guys and I told myself, 'I'm going to bet on myself'.
HCCAU: So between you and the guys, what were some of your initial ideas?
BSM: The initial idea with the guy, we were actually going to do a story about a guy getting raped. I wanted to do something that was still a social justice issue so that we could enter into the Social Justice category. I'm really big on telling untold stories or a perspective that most people don't look at and that is what I really thought about. Then when I had to transition into my own idea, I actually originally called the film, 'Based on a True Stor…'. That was the script for SCRIPT, and it was called 'Based on a True Stor…', because if you look at the short film that I actually produced, the girl Elina (she's wearing glasses), is playing me and the things that I heard on campus. The things that I experienced when Alexis passed. So, I had a moment with my brother and he was like 'you can't say based on a true story… you need to come up with something different, just trust me'. So, I changed it to SCRIPT and it obviously has a greater meaning.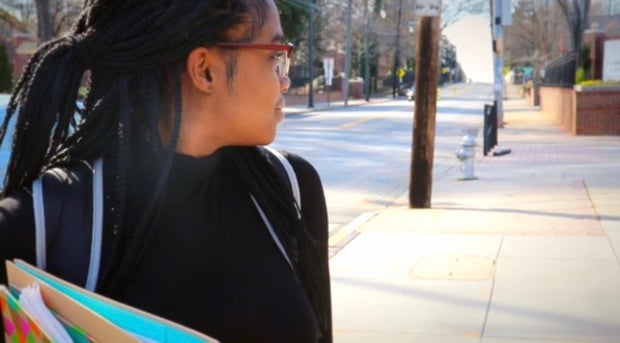 Brandy Star
HCCAU: What are the next steps as far as the film goes and further exposure?
BSM: My original plan for SCRIPT was to tell the untold story, and God willing, I'm hoping for SCRIPT to win in the Women & Film category or Social Justice category, where you'll get $15,000. I plan on using that money to create a memorial somewhere on campus for Alexis and to take the rest of the money and to match it with an Executive Producer, and be able to produce the actual Alexis Crawford story, like 'who is Alexis Crawford?', and have her family produce the film themselves and I'll create the story visually. Then provide the family with the remaining money.
This was Part One of "SCRIPT: A Short Film by Brandy Star." This is a two-part series. Check out part two next week for Brandy Star's initial reaction to the dehumanization of Alexis Crawford, advice for future Public Relations majors, and more!
SCRIPT is a short film created by Brandy Star Merriweather, the film centers around the death of Alexandria Cranford and the reactions of Brandy's peers, classmates, and reporters. The short film received two awards: Campus Finalist and the Jury Award.   
Check out the short film, SCRIPT, here: https://campusmoviefest.com/movies/86030-script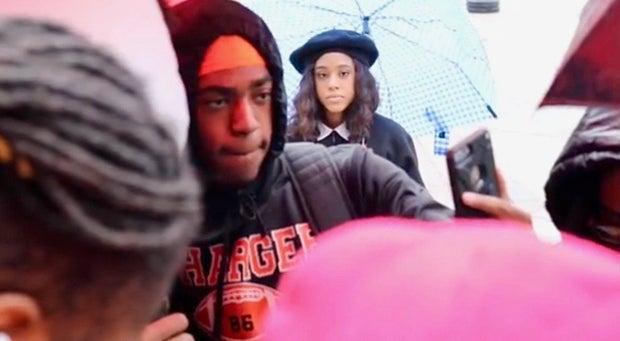 Brandy Star