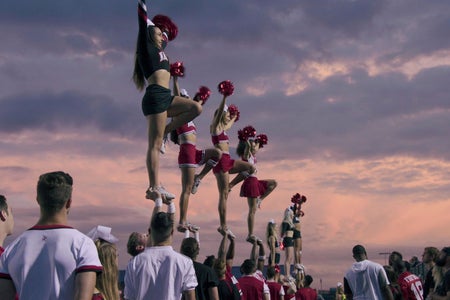 Why Is Cheerleading Getting So Popular in Brazilian Universities?
Why is Cheerleading growing in Brazilian universities?
Cheerleading started as a sport at Princeton University in 1884, it was a modality practiced exclusively by men, only in 1923 with the Second World War and the lack of feminine sports inside the college campus women started to practice Cheerleading, incorporating gymnastics, stunts and megaphones. In Brazil, the sport started to be practiced between 2006 and 2009.
At universities in Brazil, Cheerleading started at Federal University of São Carlos (UFSCar) with the specific function of motivating fans in the games. However, with the success of Cheerleading in the university environment, the sport won its own competitions, for example, at JUBs (Brazilian University Games) and the debut in the next edition of JUCA (University Games for Communication Arts). 
For this reason, in recent years Cheerleading has been moving from supporting other sports to an independent modality within Brazilian colleges.
Sport's Regulation and Competitions
In 2011, União Brasileira de Cheerleading (UBC), organ responsible for regulating the sport in Brazil, created a national championship and in 2016, the International Olympic Committee (IOC) recognized Cheerleading as an official sport.
With that decision, the sport gained visibility and became popular, even in the university environment.
For Gabriel Gianantonio Novaes, athlete of Red Birds cheerleading team at Cásper Líbero college and Sky High, All Star (professional cheerleading team), the sport had a boom within the colleges last year, mainly in São Paulo, due to the publicity that the sport has had, especially, due to posts on social networks
"Before I didn't know many athletes of All-Star teams, now there are six athletes from Red Birds Cheer in 3 different All Star with me and this is very awesome, because the teams start to grow, the gyms start to grow, and only when we spread the sport they [new athletes] start to enter."
According to Camila Werner, athlete of Red Birds Cheer, many students do not identify with other sports. However, these people end up fitting into Cheerleading, which is a broad sport that explores different skills.
"There are a lot of people who don't identify with another sport and think: I'm can't play basketball, football, so there's no sport for me. And then this person sees something in Cheer that they like, maybe it's the dancing, maybe it's gymnastics."
Other Opinions
In addition, the sport has gained space in colleges for being inclusive and breaking the stereotypes created by American films such as blond, tall, overly competitive and hyper sexualized girls.
Giovanna Sampaio co-captain of Wild Cheer at Anhembi Morumbi College highlights that her team has been working to demystify these thoughts about Cheerleading.
"I can proudly say that my team is totally against the idea that everyone has to be perfect, blond and thin, we completely prioritize the inclusion and not the labeling of athletes. We have athletes of different body types, genders, ages and looks."
For Leandro Pereira do Nascimento, member of Olympus Cheerleading at University of São Paulo (USP), the explanation for the fact that the sport is growing so much in Brazilian universities is much simpler.
In Leandro's opinion, the sport is very fun and enjoyable to practice, thus becoming a natural tendency for universities and people to join Cheerleading.
"People, like me, know and identify and end up joining this passionate sport."