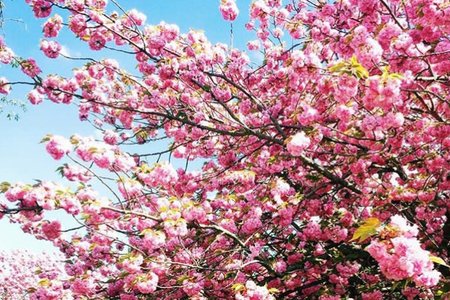 Spring Time: 5 Things You Can Do (While Social Distancing) To Make The Best Out Of This Season
The flower-y season has arrived (it started on September 22nd).  If the world wasn't going through a global pandemic, we could easily go ride a bike in a park, go on picnics or even, go to Holambra to see the flower festival and even bring one — or more — flowers home.  But, at this moment, we can barely go outside. However, there's no reason to panic, we're here writing this awesome list with five things you can do to make the best out of this beautiful and gracious season.
1.

Tea: the Uncle Iroh vibes!

Since we can´t go outside and all the options of fun have to be done inside of our own home, preparing and having tea can bring the flower-y sensation of the season. Besides the aroma of certain teas, which leave the room with a really good smell, drinking them is good for our bodies, because of the soothing and detoxifying properties, which let a sensation of calmness and lightness.

 Here are all the teas of this season:

 Chamomile: has anti-inflammatory and antioxidant action;

Jasmine: has digestive action, recommended for those who have discomfort after eating;

Passion fruit: helps with anxiety and insomnia, being a great tranquilizer;

Hibiscus: excellent antioxidant, that helps fight premature aging;

Orange flower: great for nervous tension and gastrointestinal problems.

2.

Flowers, flowers and more flowers

Living up to its name, "the flower season", nothing better than to decorate your house with beautiful flower arrangements. For those who don't know, plant cultivation generates positive energy not only for those who cultivate, but for the whole house (and, of course, the wonderful smell that flowers exude!). During the spring, the best flowers to plant are: roses, sunflower, daisies, orchid, hydrangea, hibiscus, dandelion and violets.

But, if you want a plant and you don't have enough time to take care of it, don't be sad, cacti and succulents are always the best option for those who want to decorate their home without work.

3.

Make indoor activities!

You know... if you can't beat them.... STAY AT HOME AND WEAR A MASK!

In Spring, the day seems to look more beautiful each day, and this can bring sadness, since we shouldn't leave our houses. But, it's ok, we'll help you. These are the activities and games that you can do at your home, alone or not.

Yoga: helps beating anxiety, stress and depression;

Workout: move your body and feel confident about yourself!;

Twister: you can take a big cardboard (or even paper) and draw colored balls next to each other. Then, take a smaller sheet and draw the positions of the feet and hand, a bottle will serve perfectly to be the pointer. TA-DAH! You have a new game to play with your family;

Indoor picnic: if we can't go outside, we can do it inside! Go to your Garden or do it in your living room.

We saw it on TikTok, one family made a Harry Potter themed dinner, where her parents were Lily and James Potter, her brother and her were Harry and Hermione and their beautiful dog was Dobby. You can choose one day in a week to make a themed dinner, this spring!

Here are some ideas:

-  Hawaiian Luau;

- Garden Dinner;

- Spring Harvest Dinner Party;

- Tea Party!

5.

Make your house smell like spring!

You will need:

- 1 glass bottle

- 100 ml of distilled water

- 100 ml of cereal alcohol

- 30 drops of the chosen essential oil

- Wooden rods

- Food coloring of your favorite color

 Then, follow these steps:

1. Use the funnel to place the 100 ml of grain alcohol in the glass bottle

2. Add the 30 drops of essential oil

3. Add the 100 ml of distilled water with the funnel

4. Finally, add a few drops of the dye

5. Close the glass and mix gently

6. Let it sit for three days

7. Open the glass of your homemade scent and put the sticks on

And that's it! Now your house will always smell just like spring.
We hope this list was helpful, so you can still take care of your health while enjoying this beautiful season! Stay safe and wear a mask!
--------------------
This article was edited by Amanda Oestreich.
Liked this type of content? Check Her Campus Casper Libero home page for more!