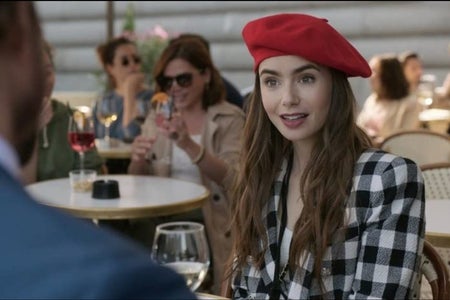 Let's Get Inspired: The Fashion Outfits In "Emily In Paris"
Between croissants and monsieurs, Emily In Paris is filled with fashion statements. Starring Lily Collins as Emily Cooper and Lucas Bravo as her neighbor-slash-love interest, the Netflix Original has garnered attention since its release in October for - besides its debatable portrayal of French people - the stylish looks sported by the protagonists. Including high-end brands such as Chanel, Moschino and Christian Loubotin, put together by Sex and the City and The Devil Wears Prada's costume designer Patricia Fields, here are ten looks that took the spotlight amid the parisian streets!
1.

The Girl In The Yellow Dress

Kicking off the list with strappy Elie Saab heels, this Ganni skirt and top set brings forth a take on the trending butter yellow hue, brought together by a black studded belt and a printed hand bag. Relying on the play of the print's asymmetry and the proportions made by the flowy fabric and the belt, this look is classy, yet casual - a balance that seems to be characteristic of Emily throughout the show.

This Christian Siriano off-the-shoulder dress, alongside the matching, crystal-embedded heels, handbag and headpiece, is a remembrance of Audrey Hepburn's elegance in Funny Face (1957) and Breakfast at Tiffany's (1961). While the hair-do is a clear nod to the iconic one worn by Jo Stockton in her reveal scene, the sheer chevron dress, Parisian and 60s inspired, could easily be picked out of Holly Golightly's wardrobe for its delicacy.

A modern version of the 90s sensation, Camille's (Camille Razat) cropped denim jacket on high-waisted jeans combo is casual à la mode. The Comme de Garçons red T-shirt and the black cowboy boots - which match both her purse and hat - complement the light-washed jeans, giving a pop of colour that ties the look together.

With Levi's dark wash jeans and a Les Merveilles De Babellou striped hat, Emily mixes European and American fashion. The parisian headpiece and USA's beloved crop top construct a relationship of duality - not only aesthetic-wise, but as in the protagonist's adaptation to the City of Lights.

Also featuring Christian Louboutin pumps and an oversized Chanel pearl bag, this outfit is all about casual wear, from high-end to fast fashion.

Despite being rivals in a very confusing love triangle, this duo sure knows how to be compatibly fashionable together. Camille's garments are poised, composed of a plaid V neck dress and sheer polka dot sleeves, brought together by shiny black boots and a clutch to match in this beige and black getup.

Meanwhile, Emily experiments with the one-colour theme and rocks head-to-toe green. Combining clashing prints and hues through pieces from Chanel (the embellished earrings and tweed green coat), STAUD (lime green handbag), and Brandy Mellvile (plaid green mini skirt), Lily Collin's character exudes Gossip Girl and Sex and The City energy.

Another take on casual wear worn Collins, this Intarsia multi-color sweater and pink beanie assemble is both comfy and fashionable, perfectly fit for sipping champagne in Champagne. The rubber rain boots and brown bucket bag are details that make this outfit remarkable, colorfully and quirky bringing that Emily style flair into the well known oversized sweater and leggings lane. 

7.

The Parisienne's Guide to Fashion

Sylvie (Philippine Leroy-Beaulieu) is a fashion icon in Emily In Paris that we didn't expect - and didn't know we needed either. The black wrap skirt, combined with an off-the-shoulder Rouland Mouret top and accessorized with dangly earrings, rings and a vintage metallic coat is the embodiment of polish and the Parisian style, per Emily's boss.

Combining high street and high fashion, this River Island color-block coat and Louboutin strappy pumps combo is discretely chic: accessorized with golden bracelets and earrings (and, of course, a crêpe in hand), the look becomes charming with its touch of hue. The low-key fun from the pink and gold and the sleek form are sure inspos for when the days get colder.

Emily's best friend Mindy Chen (Ashley Park) is another character with an underrated style. From morning coffee dates to party nights, Mindy made bold fashion choices with each appearance. Among her best looks is this goldish-yellow suit with high water pants that looks like art on a stick - or rather, on fabric. The also yellow beret and white heels accentuate the brush strokes even further, making this outfit one-of-a-kind (and a personal favourite).

"Ringarde!", said fashion designer Pierre Cadault (Jean-Christophe Bouvet) to Emily after inspecting this look. Though deemed basic by Pierre, the attire is pretty fashionable in itself - tacky Eiffel Tower bag charm aside. Sporting a V neck long sleeve dress, paired with Alice + Olivia Harley's cropped leather jacket and a Chanel pearl necklace, this look experiments with layers and textures, giving a distinctive version of the classic black on black (or rather, "off-black") combination.
---------------------------------------------------------------------
The article above was edited by Laura Enchioglo. 
Liked this type of content? Check Her Campus Casper Libero home page for more!