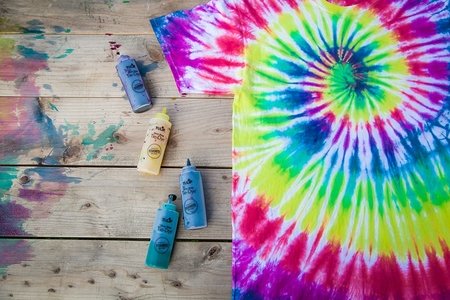 Get Trendy By Yourself: Learn How To Do a Tie-Dye Shirt at Home
You have probably already seen that tie-dye - a famous pattern trend from de 70s - come back strong for this fall season. A must have for all of the street style lovers, the tie-dye is actually quite easy to do at home. There are numerous technics for a lot of different tie-dye patterns. But, in the majority of the cases, for creating those stylish pieces you only need a plain tee, fabric paint (in the colors that you like), elastics and water. 
What about you distract yourself from the outside world and DIY an amazing shirt? Below, check it out three YouTube tutorials for you to learn how to customize your clothes! 
In this first video, Andressa Gusmão teaches us how to get the marble effect! Georgeous, right? 

The Youtuber Nienke Helthuis picked the blue color to paint her shirts, sweatshirts and even her socks! In the video, she gives us a lot of tips and carefully explains all the steps to a beautiful tie-dye set!