Entrar para a faculdade é uma transformação na vida de qualquer jovem. As expectativas de colegas novos, festas universitárias, e de estudar em um dos endereços mais valiosos da cidade de São Paulo atraem centenas de alunos todos os anos. E encontrar o nosso nome na lista de aprovados não tem preço. Contudo, em 2020, a experiência do primeiro ano de Cásper foi bastante diferente do esperado. A pandemia do novo coronavírus transformou a nossa visão de mundo e nossa vivência com a faculdade. Sabendo disso, conversamos com dois calouros de Jornalismo sobre como foi se tornar Casperiano em 2020. 
Rafaela Bertolini, de 18 anos, contou um pouco sobre as suas expectativas para a faculdade e como que foi a experiência de um primeiro ano remoto.
"A Cásper, a partir do momento que eu decidi que queria Jornalismo, sempre foi minha primeira opção. Então, estudar aqui sempre foi um sonho, que eu ia fazer qualquer coisa para alcançar". Ela contou também sobre as suas expectativas em relação a vida de universitária. "Eu sabia que eu ia ter uma vida nova, que teria mais responsabilidades, de entrar num lugar novo, crescer, fazer vários amigos, e conseguir me formar profissionalmente num lugar muito bom. E eu tinha grandes esperanças sobre a Cásper, então acho que essa era a minha expectativa, de finalmente dar um gancho e começar a minha vida de verdade".
Ela lembra como funcionou no início das aulas, quando a perguntavam sobre a faculdade: "Eu não sabia nem o que falar. Toda hora que alguém vinha me perguntar o que eu estava achando da faculdade, eu poderia passar horas falando, porque eu estava muito feliz, estava adorando cada pedacinho. Eu acordava 5 horas da manhã todo dia, mas acordava com muita vontade. Eu estava amando esse mês presencial que a gente teve, eu estava amando com todas as minhas forças".
Quando perguntada sobre o que mais gostava na Cásper, ela respondeu que gosta de cada detalhe da faculdade: "Eu gosto muito das pessoas, a grande maioria foi muito legal comigo. E eu fiquei maravilhada com a estrutura da Cásper, os professores são muito bons, e eu tenho um carinho muito especial por eles, apesar da distância".
Rafaela também contou um pouco sobre suas expectativas quando as aulas presenciais foram canceladas. "Eu achei que ia ser algo rápido. Na minha cabeça, ia durar um mês, dois, no máximo três. E eu tinha muita esperança de que ia voltar. Então, quando eu vi isso se destruindo, os meses passando, um, dois, três, agora a gente está em oito, eu me sinto muito mal de ter perdido meu primeiro ano de faculdade. Eu estava com tanto gás para agarrar essa oportunidade que eu tive, de estar em uma faculdade ótima, e de repente isso foi meio que quebrado, então tem sido um pouco difícil lidar com isso. Sempre foi, sempre vai ser. Eu acho que nunca vou me conformar que eu perdi um ano inteiro da faculdade, ainda mais o primeiro", lamenta a jovem.
Sobre o impacto que a vida na faculdade pode trazer para os jovens, ela refletiu: "Quando você passa na faculdade, a partir do momento que você vê o seu nome na lista, você já percebe, já vem aquele pensamento que a sua vida vai mudar completamente, e você fica pensando em várias coisas. Toda aquela expectativa de que ia ser um ano legal, ia ser algo diferente, que eu ia fazer muitos amigos, que eu ia dar um início na minha vida, isso acabou de repente, e é muito difícil mesmo".
Apesar de ter passado seu primeiro ano com ensino remoto, Rafaela acredita que a qualidade das aulas se manteve, a dificuldade em si veio na hora de acompanhar as matérias. "Por mais que eu ache que as aulas estão sendo boas, eu não ando acompanhando tanto assim. Acho que a minha produtividade caiu muito, porque antes, eu lembro que eu chegava em casa, fazia resumos de tudo, revisava. Hoje em dia, raramente faço isso. Por mais que eu ache que as aulas estão sendo boas, não sei se elas estão sendo tão efetivas para mim. Acredito que eu estaria absorvendo muito mais se estivessemos tendo aulas presenciais", refletiu.
A estudante acredita que os trabalhos da faculdade têm sido essenciais para a aprendizagem nesse período de estudo a distância. "É assim que eu consigo ver o que eu estou aprendendo. Porque assistindo aula e tentando entender o conteúdo, é algo que eu não consigo. Então, os trabalhos, em que eu pego o conteúdo, reviso tudo, são extremamente essenciais para eu entender a matéria que normalmente eu não estou entendendo nas aulas, então acho que estão sendo essenciais", comentou.
Por fim, Rafaela respondeu se voltaria para as aulas presenciais nesse momento. "Por mais que o meu coração diga que eu quero, sim, voltar para a faculdade, sou uma pessoa que tem muito medo. Por mais que eu quisesse, não sei se é muito viável, tenho um pouco de medo de andar de transporte público, e eu ando de metrô, de ônibus, para chegar, então, é um risco muito grande que estou correndo. Eu não sei se o fato de ter aula assim me assusta tanto, mas o fato de pegar transporte público, é algo que eu tenho um pouco de medo".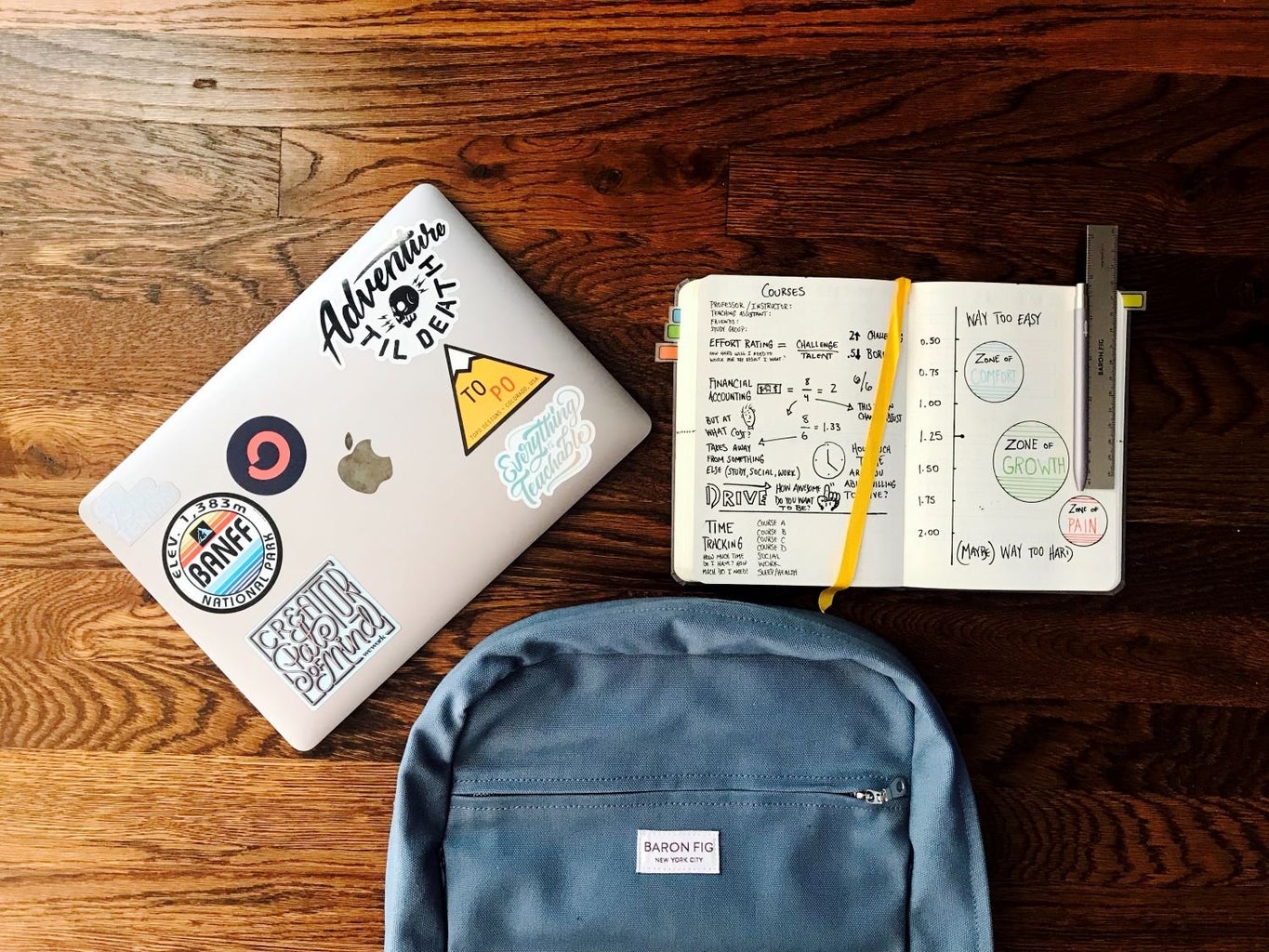 Murillo La Fonte, de 18 anos, também respondeu algumas perguntas sobre esse primeiro ano diferente que os Bixos de 2020 tiveram, contando quais eram suas expectativas para a vida universitária no início do ano.
"Eu tinha a expectativa de, principalmente, apagar o meu passado, de uma pessoa introvertida, que não falava com quase ninguém, pra uma pessoa que as pessoas olhassem e se espelhassem, que achem divertido, e querem estar junto, sabe. E eu tentei mudar essa minha imagem. Porque eu mudei muito como pessoa no ensino médio, e eu não consegui apagar a imagem que as pessoas já tinham de mim. Então essa era a minha principal expectativa em relação à vida de universitário. Eu nunca fui muito de festa, então eu esperava mesmo me conhecer, ou melhor, mostrar quem eu sou para as pessoas. A faculdade era para mim esse lugar de redenção, um lugar onde ninguém me conhecia, onde eu poderia realmente começar uma vida nova, mostrar para as pessoas um Murillo diferente do que elas imaginavam que eu era. E, sinceramente, muitas dessas expectativas foram atendidas, e é muito bom dizer que eu sou um estudante da Cásper", afirmou.
O estudante contou o que achou das aulas presenciais na faculdade. "Eu estava adorando. No primeiro dia, conheci várias pessoas incríveis. E quando começaram as aulas, eu ficava alguns dias de tarde para conhecer um pouco mais do Centro de São Paulo, um lugar que eu nunca tinha visitado muito, mesmo morando perto, então era muito legal essa parte principalmente de fora da aula, né. A aula era legal, obviamente, mas o que era mais interessante era o trajeto. Pegar o trem, acordar às 5 da manhã, por mais que me deixasse cansado, era algo que eu gostava. Era ótimo fazer essas amizades e conhecer essas pessoas novas, diferentes desse círculo que eu conhecia até agora. E simplesmente estar num lugar muito diferente do que é a minha cidade, que é meio interior, mesmo sendo grudada em São Paulo".
Quando perguntado sobre o que mais gostava na Cásper, respondeu: "O meu primeiro contato foi incrível, de verdade. Pessoas maravilhosas, a estrutura da faculdade era totalmente diferente de tudo o que eu já tinha visto, parecia um outro mundo, sabe. Um mundo diferente do que eu tinha vivido até agora. Meu primeiro contato com a faculdade foi extasiante".
Sobre o início das aulas remotas, contou um pouco sobre suas expectativas e experiências. "Eu achei que as aulas não iriam render, porque não confio muito em aulas a distância, mas começou bem tranquilo. Antes do Teams, tínhamos aulas que não eram bem aulas, então a gente recebia os conteúdos por e-mail. Sinceramente, o Teams é muito mais pesado, eu sinto que eu rendo menos com ele. Mas também é bem legal poder falar com o professor e com os nossos colegas, e até mesmo conhecer eles, mesmo que pela internet, é uma coisa que me faz feliz. Não foi um grande desafio para mim". 
Murillo, apesar dos acontecimentos da pandemia, ainda teve uma boa experiência no seu primeiro ano na Cásper. "Eu acho que as aulas estão sendo super efetivas. Eu estou aprendendo muita coisa útil para minha vida, e para minha vida não só de jornalista, mas como pessoa também. A Cásper me ensina muita coisa, os professores nos ensinam muitas coisas que são para a vida". Ao ser questionado sobre seus planos para o próximo ano, opinou: "Eu, pelo menos, não desistiria, mesmo se as aulas não voltassem no ano que vem, porque é uma experiência que, mesmo sendo online, ainda vale muito a pena".
Ele conta que mesmo com a pandemia e o ensino a distância conseguiu realizar todas as suas expectativas para esse primeiro ano como universitário. "O primeiro ano acabou não se perdendo pra mim. No primeiro ano, eu tinha algumas expectativas, que eram conhecer mais gente, formar um grupo de amizades, mudar a visão que as pessoas tinham sobre mim, e aprender um monte de coisa sobre jornalismo. Então, se esses eram meus objetivos para o primeiro ano, eu consegui", conta. Sobre as possíveis experiências perdidas da faculdade, ele reflete: "Eu acho que a principal perda que a gente tem é a questão do trajeto. O trajeto é uma coisa que me é muito querida e que me ensina muita coisa. Mas fora isso, eu acho que a experiência da faculdade que se perde é principalmente o contato. Mas mesmo que a gente estivesse junto neste momento, não teria contato. A gente teria no máximo, máscaras, falas, mas isso eu prefiro manter pelo computador. O que também se perde é a questão da formação de laços, do trajeto. O que vem antes e depois das aulas. Mas a faculdade, por si só, não é algo que eu considero um ano perdido".
Murillo concluiu seu relato contando que não voltaria para a faculdade nesse momento. "Eu não voltaria, porque para eu ir até lá, tenho que pegar trem e metrô, e é muito perrengue, os lugares são cheios, é muito arriscado, principalmente porque eu vou no horário de rush. É uma coisa que eu não arriscaria fazer, eu não voltaria esse ano. Se fosse ano que vem, só quando realmente eu estivesse vacinado. Mas antes de ter vacina, de jeito nenhum". 
——————————————————————–
The article above was edited by Danielle Amedore.
Like this type of article? Check Her Campus Cásper Líbero  for more!