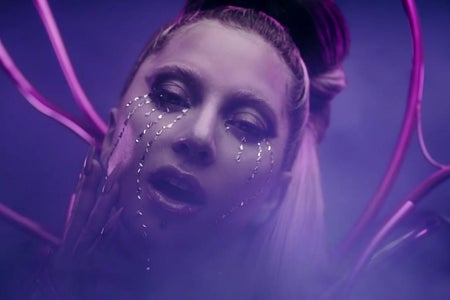 "Chromatica": 5 Reasons to Listen to Lady Gaga's New Album
"Chromatica" is the number six Lady Gaga's album which was released on May 29th. With it, the "Mother Monster" achieved - for the sixth time because of a studio album - the first place on Billboard 200 and it was considered the biggest feminine debut of this year. Besides, thanks to the recent release, Gaga is the faster female artist to have all works on this position.
The fans were really anxious for what was coming and full of expectations. Fortunately, this new CD doesn't disappoint and delivers a lot of wonderful things, like love, cure and self acceptance (things that everybody should know about). That's why we separate five reasons why you need to listen to "Chromatica" right now!
What are you waiting for? Check it out below:  
On her fifth album, "Joanne", launched on 2017, Gaga came with a different style than that we were used to hear from her. She flirted with a more country and soft rock types of tracks and left fans divide. With "Chromatica", we can say that the old Gaga came up again!

She reassumed the role that made her famous. With a little bit of electronic beats too, Gaga brings back the pop look. Dyed hair again, great dance performances in the video clips of "Stupid love" and "Rain on me", and kind of weird elements on the music videos. We see predominant aesthetic colors for this new work, such as pink and purple. 

The songs could not transmit more of Gaga than this time. The new album is separated in three interludes, "Chromatica I", "Chromatica II", and "Chromatica III", that we can understand as representing phases of Gagas feelings. First, she wants to show us her view of an ideal world. The tracks are totally aimed at showing her embracement of herself, who she is, and what she wants to share. 

With "Free Woman", for example, Lady Gaga says that is not because she is free now that she is ignoring everything that she has been through. On the contrary, she is totally accepting and moving forward with it. 

The second interlude is marked by a mental crisis of the singer. Is a true ask for help on a moment of depression and everything that involves it. Literally, all the little monsters that lives in Gaga's head. In the third and last interlude, we have something like a revival of Mother Monster and her path to gratitude of her career and fame.

The "Chromatica" features are definitely a high point of the album. We have Ariana Grande in "Rain on me", Elton John in "Sine from above", and the k-pop stars BLACKPINK in "Sour candy". The three participations brings back fans of this artists and represents the past (with Elton), present (with Ariana) and the future (with the girls' group) of the music industry.

These featured songs are pretty exciting and important for the album. They are present in the three interludes. If you think that these would be unusual feats, you're wrong: Lady Gaga combines perfectly with all the guests artists, and delivers music diversity on the CD!

4.

70s, 80s and 90s references

Beyond pop, we also have the exploration of 70s, 80s, and 90s music styles on "Chromatica". We have a lot of ballad beat of those times, and also electronic and eurodance. On "911", we clearly see an influence of 70s forwarding to eurodisco. On "Babylon", we have 80s style by delivering a perfect inspiration on Madonna's era. The influence of 90s appears on "Enigma", and its exciting beat to enjoy a lot on the dance floors.

Lady Gaga brings a whole new ideia of world with this album. Living in totally another planet, she wants to show us her view of an ideal universe. The Mother Monster wants to finish all the bad stuff and diffuse love, cure and self acceptance. It's a world of fantasy, that has its own culture, its own costumes and its own tribe.

In an interview for Apple Beats, Gaga sayd that "Chromatica" is the representation of her perspective: "this is how I understand things". As we see on the music video of "Stupid Love", Gaga's objective is to united "rival" people through love - and this feeling is what should remain. Not only this song, but all the album opens to a lot of discussions of how our future planet should be.
----------------------------------------------------------------
The article above was edited by Helena Cardoso. 
Liked this type of content? Check Her Campus Casper Libero home page for more!