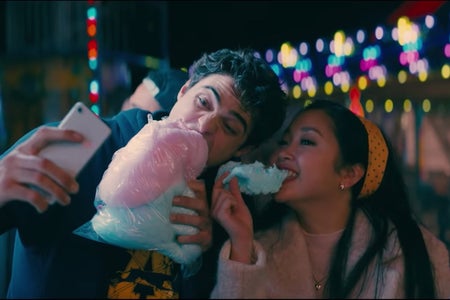 "To All The Boys: Always And Forever" - The Last Chapter Of Lara Jean's Journey
"Always and Forever" is the third and final movie of the feel-good "To All The Boys" series, a Netflix production based on the charming book trilogy with the same name by Jenny Han. This gripping movie started with the Covey family trip to Seoul, South Korea, on a hopeful note.
During that time, Lara Jean Song-Covey and her sisters, Margot and Kitty, had the opportunity to spend more time together and get in touch with their mother's culture. The trip was also the beginning of changes for the family as their dad was thinking about proposing to Trina, his girlfriend who also happened to be the neighbor, in marriage. The horizon of this story is filled with choices and possibilities and Lara Jean's dreams never seemed closer. But what she couldn't even imagine was that she was about to learn one of life's toughest lessons. "The future doesn't always go according to plan, mainly because we are not in control of different situations in life '', what she wrote at the end of the letter to her boyfriend, Peter Kavinsky, at the beginning of the film.
In this movie, the protagonist has to make the hardest decision about where to take her life after graduation, including her college choice, and we can follow all the steps she takes and the last months of high school through the scenes. With several milestone moments, we closely watch the story of Lara Jean having to choose between staying with her boyfriend and her family, or following her aspirations. 
It was released on February 12th, taking the first place in the top 10 of Netflix's charts and it counts with a great cast of many well-known actors such as Lana Condor, Noah Centineo, Anna Cathcart, Janel Parrish, John Corbett, Sarayu Rao, Ross Butler, and Madeleine Arthur. 
If you are looking for a romantic and heartwarming film during this quarantine, you are in the right place. Now it's time to find out more about this touching universe. Will you come? It's definitely worth checking out! Oh, but beware of the spoilers…
1.

The Visuals: Attention to Details

The third movie has more eye-catching moments than the previous ones. So grab all the snacks you have before the movie starts to not lose any visual detail and make sure you have popcorn and that your phone is not around so you won't be distracted.

The opening scene in a Seoul cupcake shop made to look like a hand-drawn setting is something that you have to check out. One of the production designs was the graphic map that follows the airplane around the globe, planned by the director Michael Fimognari in every single detail. This brightly colored map matches the rest of the movie's color palette, with plenty of pinks, yellow, and blue features. This appeared when Lara travelled back to Portland from Korea and when she went to New York with her senior class. The map also shows famous landmarks in the states they fly over. Another detail you shouldn't miss are the message exchanges between Peter and Lara Jean through the movie.

It is curious to see that the production stayed true to its yellow, magenta, and cyan color scheme throughout the film, like we see at the NYU party when the Empire State Building was lit up in these three colors or from Lara Jean's bedroom set and wardrobe. Yellow, for example, it's used to look like the sun, bringing brightness and vivid aspects to most of the scenes.

The Covey House is where most of the movie is set and Lara Jean's room is something apart from the white-and-tan contemporary style home, as she is a creative and artsy person. It's colorful, with flowers painted on the wall behind her bed and strings of lights in the background and her photo wall. Her room is the place where she can relax and rest, given why every little thing matters, especially when it comes to creating a special and cosy place with her style. In the last film, her room also reflects the evolution of her character, so the designer added some specific details about what she garnered along the way in her life story.

 Another visual detail that can be noticed in the house is the change with the arrival of Trina, when she moves in with the family, the place starts to have brighter colors and new furniture as it gets redesigned, even though each small change was made respecting what Lara's mom did. The production designer, Chris August, and her team meshed the two (Lara Jean's mother and her new stepmother's styles) together.

2.

The Soundtrack: With Music, Everything Gets Better

It's a known fact that music can improve our moods. In a film this feeling happens more deeply; it is the choice of music that helps to create the perfect moment. How many times do we remember a movie just because of the soundtrack? How many times have we cast our minds back feeling the same thing that the characters felt in that scene? The soundtrack says a lot about the style of the film and the characters, and for this reason, it is an important piece in film production. The best way to set the atmosphere, tone, and intention of a scene is by the use of music and a soundtrack.

The "To All the Boys: Always and Forever' soundtrack, that includes nearly 50 songs, was released digitally on February 12 by Capitol Records, an American record label owned by Universal Music Group.

Overall, most of the tracks of the film are pop-rock party-starters. However, there's also an occasional throwback with the Oasis' classic "Don't Look Back in Anger" as Peter Kavinsky is an Oasis fan and his love for the English rock band is partly because the director is a true fan and also because teenagers are looking back and discovering the group now. ''In My Head", ''Dancing in the Moonlight'', ''Won't Let Go'', ''On Fire Again'' and ''Beginning Middle End'', the signature romantic soundtrack, also contribute to creating special moments in the film.

In the scene where Lara, Chris - her best friend - and Gen attend a swanky rooftop college party, there's a live band playing: a real-life band called The Greeting Committee, playing their song "17". Although, ''Beginning, Middle, and End'', the one that becomes Lara Jean and Peter's song, which is also played by the band at the party, is actually a song by the singer Leah Nobel. This song perfectly reflects this dreamy love story and the fact that Lara has big life decisions and needs to follow her heart. Throwing in, Spice Girls' ''Wannabe'' was also a big highlight and it's been 20 years since this song came out and this is an opportunity to appeal to a new generation. It was played twice in two different versions to contribute with different moments of the film in order to change and impact the tone of the scene.The knowledge that the same song, depending on the beat and rhythm, can express a lively scene and a more sad scene is a very interesting aspect to work with.

In the third movie, there are more K-pop, more specifically, female K-pop stars or bands. Because of Lara Jean's Korean heritage, the production team explored a few options for those opening moments given the energy and pacing of the scenes filmed in Korea, and ''Gee'' by Girls' Generation did the trick. Also, ''Q&A'' by Cherry Bullet and ''Pretty Savage'' by BlackPink. It contributed a lot to this movie production and it was something very well thought out, a great way to stay close and connected with a different culture even without travelling as in the last movie Korean culture is very well represented.

3.

The Particular Universe of Seoul, Korea

When I think of Korea, or anywhere in the world, I tend to say that each place is a particular universe with different cultures, habits, and stories. And now we will explore more about one in particular.

The universe of Korea is more and well developed in the scenes of the third movie as it is a very important place for the Covey family since Seoul is where their mother was born and raised. Lara Jean's ethnicity is a vital part of who she is, but at the same time, when the sisters visit Korea, they're tourists. Korean culture is not always part of their daily life and the family has some Hollywood stereotypes. The feeling of being in the same place where her mother lived is powerful and meaningful to the Covey sisters, where they feel the closest due to a lot of emotional exchanges between all the family. Lara feels comfortable as if she was at home. The trip is also a great opportunity to know more about their history and to reconnect with it. We can be easily influenced by the vibrant energy in each special moment of this journey.

Throughout the beginning of the film, many places will appear on the screen, starting at a popular café in Seoul, the Greem Café (Yeonnam-dong 223-14), which is known for its 2D design that makes any visitor feel like they have stepped into a cartoon movie. Another place is the shopping district in Seoul, Myeongdong, with numerous international and local brand shops (big department stores, fashion boutiques and cosmetics shops) and cafes to take a break in or getting something to eat as well.

The Yeouido Han River park is one of the most popular places for tourists and locals, especially in spring when cherry blossoms are blooming all around Korea. This park appears as Lara and her sisters cycle along the banks of the river and stop to see the biggest ''I Seoul U' sign in the city. Lara and her family also go to a traditional market, Gwangjang, where there is a ton of good local food to taste and a vintage clothing store. They sit at the most popular vendor to eat handmade noodles and dumplings.

In the trip's scenes, we can quickly see several different places as the Bongeunsa Temple - the most popular Buddhist temple- , the Dongdaemun Design Plaza -  one of the coolest architectural wonders with many different exhibitions, restaurants and cafes - , a Korean spa and sauna, and the Seoul Sky Tower - the tallest building in Korea with an epic view and projections covering the walls and ceilings created as entertainment in an art exhibition area before you head to the elevators.

The most special scene of the trip happens in the N Seoul Tower, the local which offers a gorgeous panoramic view of Korea's capital. The family head up there to look for a love lock that her mother left on a famous fence years ago when she was just falling in love with their dad, as a symbol of their eternal love. Her mother's lock had ''Eve + Dan'' written on one side and ''for the rest of my life'' on the other. Before they leave, Lara Jean hooks a nearly identical yellow lock onto hers with all of the family initials and a message ''for the rest of our lives'' written on it. This was a very symbolic and emotional scene that I think you will remember with love.

Additionally, we can all notice several known aspects of Korean culture in the fast pace intro as food, health care, makeups, skin-care products and cute locations that you will fall in love with.

4.

New York City: The Life Changing Place

In the movie, we can all notice Lara Jean's sparkling eyes when she goes to NYC on her school's senior trip and automatically falls in love with the city of films and stories. New York was life-changing for her because she feels it is what she wants for herself at that moment and starts to consider a university far from both her family and Peter. Based on this feeling, she gets surprised to discover that the university's campus is right in the middle of Manhattan. Also, there's a  scene that helps us understand more about what she wants which is the one where she rides the subway and contemplates a future in New York as she sees a woman reading the same edition of the book "Pride and Prejudice" that she has, and considering it has over 150 editions and adaptations, seeing her exact copy does seems like a pretty great sign of belonging. Lara begins to consider the possibility of getting an internship at NYU's publishing houses and for that, she makes a big decision.

This enchantment that she feels is not difficult to happen considering that New York is the place of dreams for many other girls who get excited about the city of lights. Both travels affect Lara Jean a lot: in Seoul, she's reconnecting with her heritage and then being in New York opens her to new possibilities, she starts to notice that life is bigger than her bubble and starts to find out more and expand her views about herself and her dreams. Covey falls in love at first sight with each local that has been visited and feels at home. Just on the bus ride to the hotel, the group of students passes by the Freedom Tower, Radio City Music Hall and New York Public Library.

During their senior year class trip, everyone was separated by groups to explore the city, even the main couple, so Lara and Chris visit several famous places such as Times Square, Grand Central Station, the historic Firehouse and Levain Bakery, with a blue storefront, where is very common to find a long line of people to buy the disputed thick chocolate chip cookies, brioches, cakes or any other product they sell. Peter and Trevor, his friend, enjoy their tour by taking selfies and sending them to the girls in front of the World Trade Center Transportation Hub, the Central Park, the street by Pershing Square (by the Grand Central Terminal) and the Brooklyn Bridge.

To keep the film moving, more places appear on the screen when Lara, Chris, Peter and Trevor were taking pictures around the city: the Magnolia Bakery, another sweet shop as Lara Jean loves this kind of places, that in every month has a different flavour and it is very famous among tourists, there you will find a wide variety of brownies, the well-known banana pudding, cookies, cakes, pies and vanilla cupcakes; the Flatiron Building, one of the most iconic skyscrapers, that appears in the background while she and Chris capture snaps; and the Washington Square Park, a meeting point and a center for cultural activities, where Lara begins to fall in love with the city and discover about NYU campus, which spikes her interest. It is also when she and Chris find Gen and are invited to the college party.

Moreover, on their first night in the city, Lara and Peter sneakily break curfew by going to Little Cupcake Bakeshop,  a real NYC cute vintage style bakery with an architectural design that respects the environment, known for its delicious cupcakes and their sustainable ingredients. It offers a huge variety of different flavoured cupcakes and cakes and other desserts. In this place happened a very important and long-awaited scene for the story, where Lara tells Peter that was not accepted in Stanford and when they talk about their future.

5.

Tough Decisions: Dealing With The Consequences Of Choice

In life, every decision we make has a consequence, whether positive or negative. When we choose something, we are giving up on something else. This is really hard to understand because we never know which one is the better or right option. We simply try to balance the pros and cons and, according to the situation, we choose. And the ''funniest'' fact about it is that no matter how many decisions we have already made, we will never get used to it because it turns out different every time.We can't just simply run away and decisions follow us every day from the simplest that we don't even notice to the most complicated and, for Lara Jean, this couldn't be different.

In the first film, her older sister Margot chose to study far away from home, in Scotland. That impacted the whole family and her old relationship. Lara had to take on the role of the older sister and set an example for Kitty. However, in the third movie, it's Lara's turn to go through the same questions as her sister after graduation. She had to choose between following her dreams or staying close to those she loves, which was probably the hardest one. After knowing that she didn't get into Stanford, it took her a while to tell Peter the truth in fear of his reaction as their plans to study together will go down the drain. But she was accepted to the University of California, Berkeley, and New York University. At first, she was against leaving her original plan, but in the end, she expanded her options.

As said before, Lara Jean decides to follow her heart and choose NYU during her school's trip, and she starts to get worried if her relationship would be strong enough to survive a long-distance circumstance or wondering if she made the wrong or right choice. "The world keeps shifting under my feet, and all I want is for it to stand still''. When the couple talked about the future, they always planned to study together at the same college to not be separated and Peter's mind was already at Stanford, as it is his dream college, with Lara by his side. So he asked her to try a transfer in the first year. She also didn't want to be away from him and neither from her family, especially because she saw the consequences that Margot had to deal with. But her heart wanted something different from what was planned and NYU would make her happier.

Lara's character was very brave in pursuing her own college dream experience and she had the support she needed from her family and best friend. ''You can't save this relationship by not growing''. Personal growth was very important for the story. Peter couldn't hide his disappointment at first and he starts to save himself what he sees as the inevitable breakdown of a long-distance relationship of three thousand miles apart.

6.

Maturity and Empowerment: A Different Lara Jean

During the series, Lana Condor's character - the attentive book reader and writer of love letters - grows from the insecure little girl that we saw in the first film and changes in the third, but she never loses her essence. In the last movie of the trilogy, she has to make big life decisions. It's prom time, the last year of high school, the graduation, and also the life-changing period. We start to see a mature Lara Jean when she decides to follow her heart. She goes from being a shy dreamer girl who wasn't ready for a relationship to a confident young woman who is able to chase her hopes and dreams even with insecurities and fears.

By her side, she has Chris. The friendship between them gets stronger during the films, with a connection that will probably last forever. Her best friend helps her to overcome a bad time after a fight with Peter. Chris has true strong opinions about Lara following her dreams in NYU and that support is very important to the story. Lara starts to have her independence and this reflects a lot on her attitudes and choices. She empowers herself and chases her dreams to live her life in New York, where does she feel at home. This decision was a big step for her, living in a different place, far away from home and missing her family, which can be quite scary, but she also can't ignore her feelings and for this, she is determined to pursue her goals.

The communication between Lara and Peter gradually develops throughout the scenes. She used to have difficulties thinking about a real relationship outside her books, letters and fantasies, but in the last film they are more mature and they have learned a lot from each other in every single moment. Lara, a dreamy romantic person, realizes how messy a real connection can be and how important it is to always talk to each other and share their opinions to make it work. She is not a spectator anymore and the two become more confident, they evolve individually creating their own aspirations, different perspectives, and life paths.

The lead couple passes through several changes in their family personal lives during the films, and for that, they grow a lot as characters and it was so beautiful to watch this process. Peter's character has problems with his absent father and Lara helps him get over it with advice. Her family has grown a lot together throughout the story, always looking out for each other. Also, the affectionate energy between the stars, Condor and Centineo, keeps the sparks flying, showing that they were the perfect choice for the job. Lara Jean is a master at using her eyes and expressions to add texture to her contemplative dialogue and Lana perfectly interpreted this. 

Each ''To  All the Boys'' movie has distinct color palettes with plenty of pink, blue and yellow clothing items. And for that reason, the costume designer, Lorraine Carson, had to work with the production designer during the outfits creation process of some specific scenes. Every single costume was planned to reflect each character's personality. In addition, Jenny Han, the book's author, was hands-on during the second film; she helped with the searching of wardrobe pieces in retro, secondhand and vintage stores in New York, and sent them to the film's costume team. But in the third, due to another project, she reduced her role. Together, they thought about each moment and detail to compose the tone of the environment as best as possible: The South Korean capital directly influenced Carson's bold palette on that trip, as the clothes were very bright and overwhelming in color to represent the joy of that family time in a very special place. In the wedding scene, each of the Covey's sister wears a style that fits their personal aesthetic, but in different shades of blue: Kitty wears a baby blue tux and sneakers, Margot opted for an elegant one-shoulder muted tone dress, and Lara Jean chose a fit-and-flare sapphire blue dress.

Margot, as the oldest Covey sister, dresses more maturely. It shows that she has things under control and that she is the most stable and decisive of the sisters as she is the one who leads by example. Her looks, while stylish with solid colors, are also the most reserved. Normally, she can be seen wearing skirts, classy V-necks, soft curl hair, natural-looking makeup and soft shades of blue, pink, yellow, and green.

Lara Jean is a style star in her own right. She mixes and matches vintage with off-the-rack pieces in a soft color palette dominated by the movie's color palette. She dresses for herself and the costume designer preserved this role. However, college is approaching and this is a last year full of uncertainty and experimentation, so this reflects in her fashion choices that are not always immutable. There are more cute vintage pieces and details that she makes to express her creativity, individuality and self-discovery. She always uses fabulous shoes, hair accessories and she tends to use a lot of comfortable clothes. As she is the star of the story, in some scenes, her costume stands out. For example, in the scene where Lara and the other girls are on the subway, she shines brighter in a yellow dress that contrasts with the muted greens and blues the others wear. Also, as she changes and matures, her style does too, becoming more body-conscious and sophisticated over time, leaving teenage years behind in her closet, even though she continues being uniquely her. A fun fact is that during prom, Lara uses a dusty rose dress with some flower details that was made of a few garments and it was the most expensive outfit in the third film.

Kitty is the youngest Covey sister, a very confident and bold as is the one who always takes chances and does what she feels like, reflecting a lot on her clothing style. It is more stripped down, typical of a girl her age. She also has the most fun with her hair as frequently wears it in different ways with colorful barrettes and scrunchies.  

 And last, but not least, Peter Kavinsky normally uses casual or sporty outfits since he's the school jock and we saw Chris, mixing Rock n' Roll vibes and having a lively 90s influence. In New York, a setting for many rom-coms, we can notice her Blondie (a band) black t-shirt, and unlike her bestie - who chose practical white sneakers - she opted for a green stylish hat and wedge heel platform to use in the city. In the prom, she uses a dress with long opera gloves to create a more sophisticated look and Peter a navy tux.

The yearbook is a great ending symbol, but also a mark for a new beginning. It's a beautiful opportunity to write messages for someone, share stories and receive them from those we love. It's a way to eternalize a period, making it last forever in a book of memories. A printed yearbook will continue to be relevant even with the digital options because the feeling of having something physical to touch, when in the coming years we revisit the book to remember the school years, is unforgettable.

 It is the end of a high school period, which is a special moment in people's lives, with connections that can no longer be as strong due to the individual choices of each one. Our school friends will follow different paths and the most difficult thing is to try not to lose touch with these friends. This is a common intense phase for teenagers all across the world. There is a lot of pressure to make the right decision, as it will affect the future. In addition, it is a time to say goodbye to everything you are used to and face the unknown. Therefore, it is natural to feel fear, insecurity or excitement for the new, and sadness for what will be lost. 

The film has a very important moment when Lara Jean finds an emotional letter from Peter in her yearbook, containing his memory of their first meeting in sixth grade that he remembers quite well; the ''meet-cute'' that Lara said they didn't have. But the biggest surprise to her was in truth what happened in the end and I will not spoil this moment…

When I remember that everything begins with just one letter, I start to feel nostalgic! And if you are like me, who enjoys this kind of movie, I'm pretty sure you will feel the same way after watching the last memorable scene. How the movie closes up is perfect, with a beautiful message. Everything was arranged in the right place. And if you want to know more about the final chapter of this story, just go watch the movie, you will not regret it! I also recommend to you the charming best-seller trilogy by Jenny Han.