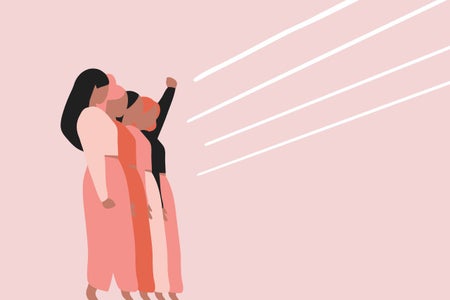 Original Illustration by Gina Escandon for Her Campus Media
Women in Power: Meeting Melanie Ritchot
My journey with Her Campus at Carleton began about three years ago when a coworker told me about her experience writing for the U Ottawa chapter. It sounded like such a fun magazine to be a part of and I wished Carleton had a publication like that; a middle ground between a university newspaper and a personal blog, with a social element to it and a focus on women—so we started a chapter! My roommate and co-founder Hunza and I spent about 8 months applying to start the chapter, taking editing tests, filling out forms and planning what our launch year would look like. My favourite HC memory was doing our campus correspondent interview with HQ from a stairwell of the Reuters building in Prague, while we were taking a foreign correspondence course there.
We were so excited to get started once we were approved and we were so lucky to have a huge amount of interest from the Carleton community right off the bat. So many talented women wanted to be part of our executive team, write for us and attend our events. One of the best parts of the process has been watching women grow in their writing and seeing friendships, mentorships and other bonds form through the network of amazing women we have all created together. Being part of a platform where students of all walks of life can express themselves has been something really special and I'll always be so thankful for the way HC Carleton has taken off and how the team has constantly evolved and been open to new ideas. Our only hope in the beginning was to make it through year one. When an entirely new, bigger team wanted to take the reins for a second year, it felt like we were really onto something.
As I graduate and watch a third executive team take over, I am so proud of those who began as writers 2 years ago and are now leading the way, and of those who are getting out of their comfort zone and trying something new, as part of the HC team. Supporting each other has always been what it's all about and I love seeing that continue. Good luck HC team 2020-2021! I know you'll all kill it, no matter what this already-challenging year throws your way.