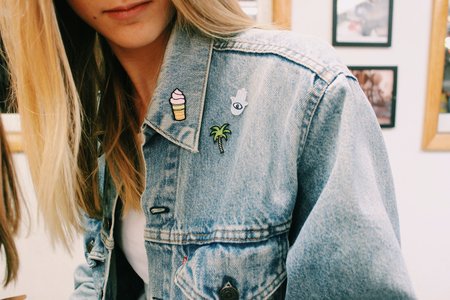 Anna Schultz / Her Campus
Something Borrowed: The Trend of Vintage Clothing
The constant need to be best-dressed mixed with a student's budget can make it hard to be on trend. Many people don't have the coin to be shopping at their favorite idols high end go-to boutiques like Chanel.
That doesn't mean they still can't dress well. To every 90s kid's happiness, those fab high-waisted jeans have made their comeback, as well as all kinds of vintage clothing from that era. You, you and you can pretend you're walking through your favourite sit-com of the time, all the time.  
People are busting out their old vintage jeans and this time, you won't be made fun of if your jeans don't fit skin tight or if they don't go past your ankles. Thrifting clothes has become a mainstream trend and some people have even created a brand for themselves around this on social media and generally online.
Alexa Jade (@thenavarose), for example, has created a YouTube channel called Nava Rose in which her content mainly revolves around buying and revamping thrifted clothes. If you want something that screams one-of-kind, try this. There's no better feeling than knowing you look bomb with clothes you made (or re-made) yourself.
The group PAQ (@paq.official) also bases some of their outfits and challenges around putting together the best thrift-y outfits. Many of the stuff they wear is unisex, so women can get inspiration from them as well. And who said clothes have to be gender binary? A lot of their outfits are based on oversized denim, bucket hats, high waisted pants, oversized graphic tee shirts, fanny packs and even silk tops.
Try going for bright colours to make yourself stand out if you feel daring. There are tons of 'hauls' and 'what to wear to any given occasion' videos out there for your enjoyment. If you feel like you haven't hit your fashion mark just yet, buy some high-waisted mom jeans, a few vintage t-shirts and a leather jacket. Now, you can walk out the door. Wait, actually, don't forget rings. Seven rings to be exact. 
So, now's the best time to go through you parents' old clothes and "borrow them" – you just might find some gems.