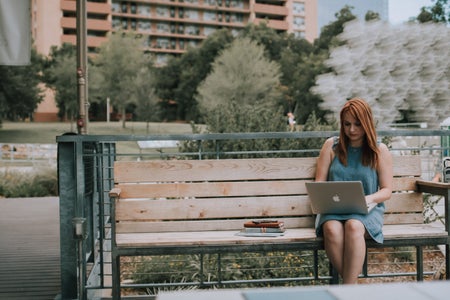 12 places to study on the Cal Poly campus during COVID
It's no secret that these past few quarters have been difficult for students to adjust to online classes and social distancing. But one of the most difficult transitions for first year students is that all common areas are closed to obey the COVID-19 guidelines. This has led thousands of students to stay locked in their rooms doing work. Students are becoming more isolated and are getting less fresh air, so to help with this, here is a list of 5 places on campus you can study outside to get a nice change of scenery. Outdoor studying is free, peaceful, and there's free WiFi. So make sure to check these places out next time you're studying or reading for your classes.
Original photo by Nicole Poirier

The tables behind the red brick dorms are great for studying because there are relatively few disturbances and the surrounding trees give you fresh air to help you concentrate. They are also close to Vista Grande and Starbucks, so you can take a quick food break to refuel if you get tired during your studying. Sometimes, if you're lucky, the Cal Poly turkeys will come hang out for a bit!

Original photo by Nicole Poirier

The UU is right next to Starbucks, so you can grab a quick pick me up while you're hard at work. They also play music on the speakers, so if you like to listen to music while you study, this is a great place to go (as long as you like country music!). The UU is a popular spot for other students to study as well, so you can make new friends and study together, of course while social distancing. There is even a new addition of a pavilion for some great shaded study space!

3.

Orfalea Business College Lawn

Original photo by Nicole Poirier

The business lawn is on the outskirts of campus, but the fresh air and grass is very relaxing to study near. Bring a blanket and you're ready for a cute picnic study sesh. With COVID, there are very few students going in and out of the business building, so you have peace and quiet to get your work done. There is even a nearby little pond and waterfall, so if you're feeling stressed you can watch the koi swim around for a bit.

Original photo by Nicole Poirier

The yakʔitʸutʸu lawn has been a favorite for first-year yakʔitʸutʸu students to lay out a blanket and watch their lectures or get school work done, but the lawn is open for all to enjoy. Especially when it is sunny, the lawn is a great place to get some vitamin D while you work. It is a nice quiet place to get some reading done. If you prefer working at a table, there are also outdoor tables in the area which are great to study at.

5.

Architecture and Environmental Design Building 5

Original photo by Nicole Poirier

The architecture building has very unique benches with tables that are great to study at. The area is very quiet so you can really focus on your work and not be bothered with people walking around and other distractions. The change of scenery is also nice if you feel like you want to try someplace new other than the more popular places like the UU or you want to leave the dorms.

Original photo by Nicole Poirier

The area behind these dorms is right against the trees and very secluded. It has a few tables that are great to sit at if you're nearby and just want some fresh air. If you live in any dorms nearby, these tables are just a short walk away. The WiFi can be a bit spotty so I wouldn't recommend taking any tests or quizzes online here.

Original photo by Nicole Poirier

Like Yosemite, Sierra Madre also has some tables behind the dorms and they are right by the "P" trailhead. These tables are very wide so you can spread out if you've got a lot of textbooks or notebooks, or even if you have a small group studying together you'll all fit here perfectly! If you want to take a break, you can do a quick hike to the P to get some exercise and give your mind a break.

Original photo by Nicole Poirier

Science North 53 has two wooden tables that are secluded from the rest of the major study spaces. The area is peaceful and away from distractions since few classes meet in person. There is even a small lawn next to the tables so you can take a break and lay out to soak up some sun.

9.

Warren J Baker Center For Science and Mathematics 180

Original photo by Nicole Poirier

The line of tables outside the Warren J Baker Center are small and spread out which is perfect for social distancing. These little tables are great for study duos or trios and the buildings allow for relatively no distractions or loud sounds of students elsewhere on campus. There is also the Science 52 Lawn nearby if you prefer some grass instead of tables.

Original photo by Nicole Poirier

The Science 52 Lawn is beautiful to lay out a blanket and do some homework. There are also tables nearby so you can have multiple options for getting work done. Not many first-year students have classes here, so this area is not super well known; it's never very busy or loud making it a great study spot.

11.

University Art Gallery

Original photo by Nicole Poirier

Outside the University Art Gallery there are a row of tables right by Subway. These tables are spread out to help with social distancing. Being right by subway might help you to remember to eat if you've been too focused on your work. Dexter Lawn is just a few feet away, so if you get tired of sitting, you can lay down and relax for a bit on the grass. Even more, Subway is a in that same area so if you get hungry and need to refuel you can grab a sandwhich.

12.

Construction Innovation Center

Original photo by Nicole Poirier

The Construction Innovation Center has lots of tables to get work done within the courtyard. Not many students will walk this far into campus to do work so you will have no one else to distract you. It is also a very simple layout with a few trees and walls on all sides so you cannot distract yourself no matter how hard you want to procrastinate. 
COVID has made it difficult for first-year and continuing students to adjust to virtual classes and isolated rooms. It can make doing work feel more like a chore than a  learning experience. Getting some fresh air and traveling to these locations on camps can help students get some fresh air and be in a more positive work enviroment. If you miss studying on campus, then check these spots out!