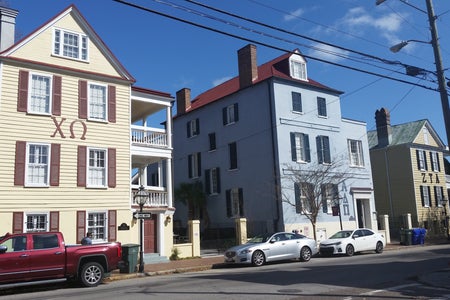 Your Guide to Sorority Recruitment at CofC
The end of spring semester is officially here, and that means many of you are starting to think about going Greek! Obviously, COVID-19 has the world more than a little mixed up right now, so there are no guarantees about the Fall 2020 semester. I know every sorority girl has our fingers crossed that we'll be able to welcome new members in a few months, but no matter what happens, this advice is timeless.
I'm a rising senior in a sorority about to head into my last formal recruitment, but the memories of being a clueless PNM (Potential New Member) are as fresh as ever. Maybe you're an incoming freshman who's been dreaming of joining a sorority since high school. Maybe you're interested, but you're still not sure it's for you. Or maybe, as I did, you already have a year of college under your belt and want to see what Greek life can offer. Whoever you are, sorority recruitment probably makes you nervous.
As someone who's been on both sides of recruitment, I know exactly how those nerves feel, and I know how much it can help to be prepared. Check out the College of Charleston's Panhellenic website for the basics, but for an insider look, read on!
1.

It's not your stereotypical Southern rush

Everybody's heard stereotypes about sorority life, especially sorority life in the South. You may be expecting a brutal process where only the tallest, prettiest, blondest girls make the cut. CofC recruitment isn't like that at all, and in reality, few recruitments are. Sure, some schools are more competitive than others, and many of the most competitive ones are in the South. But in comparison, CofC recruitment is a lot more chill. You'll find all kinds of girls in CofC sororities, so don't be stressed about finding a place. 

2.

What sororities look for

You're probably wondering how to make the best impression on the sorority sisters -- I know I did. There were a lot of questions running through my mind before recruitment. What would they expect from me? What kind of girl were they looking for?

Now that I've been on the other side, this is what sorority members really want from you: for you to be yourself. 

I know, it sounds cliché and you'll hear it a thousand times. But seriously, the best conversations are the most authentic. Letting your true personality shine will help you find the right home and will also help you relax. (Just make sure you do put your best foot forward -- you can be your authentic self and still avoid the 5 Bs.)

That said, there are a few qualities sororities want in their new members. We want girls who are kind, genuine, and, most important, ready to be an active and involved sister. Be prepared to explain why Greek life appeals to you and what you see yourself getting out of it -- and giving in return. Being in a sorority is a commitment, and we want to see that you have the potential to fulfill it. Will you be the kind of member who skips chapter meetings every week and drops after a few months? Or will you be the kind who volunteers for philanthropy opportunities and attends sisterhood events? Every sorority is looking for the latter.

3.

Don't overthink what to wear

Ok, so sorority recruitment is definitely one of those times when you need to follow a dress code, but don't sweat it. For the first two days, called Open House Round, you'll be given t-shirts, and Panhellenic has a guide on their website for the other rounds. Bid Day is super casual; you'll get a t-shirt from your new sorority and you can just wear shorts with that. I'd also bring a swimsuit because some chapters go swimming for their Bid Day celebration.

When I was recruiting for my chapter last year, outfits were honestly the last thing I paid attention to. As long as you keep it classy and fairly close to the guidelines you should be fine. Most importantly, don't feel pressured to be someone you're not. You don't have to be decked out in Lilly Pulitzer and a full face of makeup to get a bid -- but if that is your style, rock it!

Oh, and one more thing -- WEAR COMFORTABLE SHOES! You'll do a lot of standing, walking, and maybe even running, so don't torture your feet just to look cute.

4.

Be prepared for all kinds of weather

This sounds like a no-brainer, but seriously -- Charleston heat is no joke. Keep the deodorant, sweat blotters, and water bottle on hand. Girls have fainted from the heat before, so staying hydrated is super important. And not only can the sorority houses get hot, they can also be pretty loud with so many sisters and PNMs talking at once. You may get a bit hoarse by the end of the week, so a supply of cough drops wouldn't hurt, either.

Recruitment also doesn't stop for rain, so be prepared with a rain jacket and umbrella!

If there's one piece of advice you listen to, make it this one. You may be tempted to look up the reputation of every chapter on campus, but girl, just don't. CofC isn't a school with some strict social hierarchy where you need to worry about which chapters are the most popular. I promise that you will not be looked down on or excluded based on what sorority you join. It's really just not that deep.

"But what if I don't care about popularity?" You say. "What if I just want to know what the sororities are like?" Well, my point still stands. There's no point in picking favorite chapters before you meet them. Every sorority has something to offer, so walk into every party with a smile on your face and an open mind. 

Don't let anything influence your opinions except your own experiences. Don't listen to what other PNMs say. Don't listen to what the internet says. Trust your gut and stay unbiased. You don't have to love every chapter, but at least let your feelings be your own. 

Being open-minded can literally increase your chances of getting a bid, too. Stick with me here, because this is kind of a complicated explanation. Most PNMs will visit two sororities during Preference Round, the last round before Bid Day. You can only receive a bid from one of those chapters. At the end of every round, you meet with your Pi Chis (recruitment counselors) and rank your favorite and least favorite chapters, but the ranking you make after Preference carries the most weight. 

If you would accept a bid from either sorority, you list one as your first choice and the other as your second choice. If you would only accept a bid from one and you only list that one, that's called Single Intentional Preference, or "suiciding". As you can guess from the nickname, this is risky. Here's why: if you list both chapters (also known as "maximizing your options") you are guaranteed a bid from one of them. But if you only list one, you're not.

The way girls get matched with a sorority is honestly super complicated, but here's what you need to know: let's say Paige PNM visits sorority ABC and sorority XYZ during Preference Round. She would accept a bid from either one, so she lists ABC as her first choice and XYZ as her second. Paige is somewhere on both ABC and XYZ's lists of girls they might give bids to. It's possible that both sororities will reach quota (the average projected size of the new member classes) before Paige is matched with either of them. But because Paige kept an open mind and maximized her options, she will still get placed in one of those sororities, even if their pledge class goes over quota. This makes her a "quota addition". 

If Paige suicides and only lists ABC, she is not eligible to be a quota addition. So if ABC reaches quota before she is matched to them, she won't receive any bid at all. No, suiciding does not make you look super enthusiastic to be an ABC and it will not increase your chances of joining. If anything, since it takes the possibility of being a quota addition off the table, it lowers them.

You should only suicide if you are 100% sure you would rather not be Greek than be in your second choice sorority. I don't recommend it because every chapter here is worth joining, but you have to make the best choice for you. Luckily, your Pi Chis will be there to talk things over with you.

This is the other most important piece of advice. Maybe you're expecting to have a magical moment when you just know you've found your home. Not everyone will have this moment. Or maybe you'll think you did, only to get dropped by your favorite chapter. It sucks. It's hurtful. And it can be really tempting to drop out of recruitment entirely. 

First of all, remember not to take things too personally during recruitment. I know, I know -- you're probably wondering "how could I not?" But so much of recruitment is a numbers game, and chapters often have to let go of girls they love. The important thing to remember is that there's nothing wrong with you and the process is the way it is for a reason. 

Before you drop, ask yourself what you have to lose by finishing recruitment. In reality, many (maybe even most) girls are a bit unsure about their chapter when they first join. The experience you have in a sorority largely comes down to what you make of it. With a good attitude and a genuine effort to connect, you can find your home almost anywhere. If you accept a bid, give it an honest shot, and you still don't think it'll ever work, you can always leave before initiation (Initiation is the ceremony in which you'll learn the sorority's secret ritual and become a full member. Once you're initiated into one Panhellenic sorority, you can never join another one). But at least you'll know you tried your best.

Of course, this process isn't for everyone. Some girls will decide sorority life isn't their thing. Or maybe they love the idea of a sorority, but they don't thrive in the formal recruitment environment. I think everyone should stick it out, but you do have other options. Some chapters will hold informal recruitment, also called Continuous Open Bidding (COB), in the fall or spring. This is when a chapter independently recruits members without such a structured process. That said, not every chapter on campus recruits informally. If you get cut by sorority DEF, don't drop out of formal recruitment just to try to join them through COB, because they may not do it. 

Think carefully before you give up on recruitment. It may not go the way you expected, but the girls who see things through and give each house a chance almost always end up happy.

 

7.

It's totally worth it in the end

Recruitment is hard. The days are long, every morning is unpredictable, and chances are you'll get cut from at least one chapter you wanted to see more of. But you'll also make so many connections, have awesome conversations, feel the passion each sorority has for their organization, and learn what a strong, resilient person you are. And that's not even mentioning what comes next -- in your new sorority, you'll find a place that will lift you up, push you to grow, and give you a lifelong sisterhood.
Recruitment may sound complicated, but trust me when I say CofC has one of the most chill, fun recruitments of any Southern school and a Panhellenic community ready to welcome you with open arms. Hopefully, this article helped you feel more prepared and excited to GO GREEK!