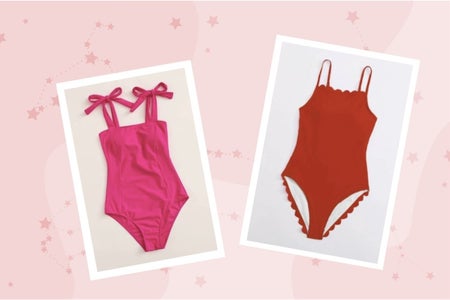 Swimsuits Under $20 You Need For Hangout Fest
This is a sponsored feature. All opinions are 100% our own.
We've all seen the Instagram posts of girls at music festivals covered in glitter or crochet tops which can surprisingly be expensive. If you're like me, you don't have money to just drop bands on several looks for a 3-day festival. Located on the glistening shores of the Gulf of Mexico, Hangout Music Festival provides the perfect setting to test out new looks that you might not have tried by the pool in your college town. Besides, do you really wanna be in the front row of Cardi B in the same swimsuit you've worn to every family barbecue for the last 2 summers? Yeah, me neither.
For when you don't want your bottoms to fall down...
Find it Here
This suit gives you a cute way to ensure that your bottoms don't go anywhere while you shake it to Khalid or Travis Scott. 
When you need to channel your inner Sporty Spice...
Find it Here
This 3 piece set comes with a top, bottoms, AND shorts. What a deal?! If you don't want white, don't worry it comes in black too.
If you're into florals this year...
Find it Here
This suit provides a lot of support which is perfect for a long day of dancing on the shore or skating in the full-size roller rink. The cutout also provides the perfect amount of flirtiness to keep it feeling young.
If you're a one-piece kinda gal...
Find it Here
Whether you're jumping into the water at a beach club or swaying in a hammock, this suit will keep you covered in all the right places so you can festival in comfort. Plus the print is ~super trendy~ right now!
If you've always wanted to resemble a china cabinet...
Find it Here
Okay, maybe it's just me but this definitely reminds me of China cups from my aunt's cabinet. That being said, I love it. It's the perfect pop of color to keep the flowers from looking too tropical.
For when you can't commit to a one piece or a bikini...
Find it Here
This is the perfect suit for when you want to look fun and flirty but also don't want anything falling out of place. The frills on the straps add a girly touch while the crisscross keeps it edgy.
Regardless of what kind of swimsuit you're looking for, Hangout Music Fest provides the perfect opportunity to wear anything of them! Whether you're at the puppy kissing booth or dancing to today's top artists, you're sure to look stunning in any of these suits! Plus, they're all so cheap you can probably even buy TWO!