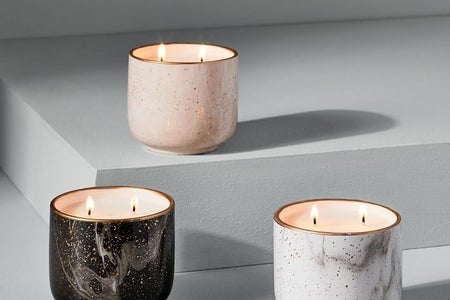 I am obsessed with having a million candles lit in my apartment at all times. With that being said, I cannot leave a store that sells candles without buying at least one. So, I constantly have a huge stock of candles and have a whole drawer set aside for them. Candles just make everything better -- I swear. 
Since I firmly believe this, I know which candles are perfect for a cozy evening at home. My personal favorites are usually from Anthropologie, Candlefish, Target, and Paula Rallis Home. They all range in price!
Anthropologie carries so many of the scents that Voluspa makes, but in my opinion, this one is by far the best! I literally burnt through this one in less than a week because it was lit all the time. I want my apartment to smell this way forever! The scent is warm tobacco, sandalwood, and vanilla husk. Also, it is not too overpowering, which is perfect for an everyday scent. 
Seeing as winter is quickly approaching, you need this candle in your house. The fragrance is a combination of pine, sugar plum, and amber. If Christmas morning had a smell, it would be this. Candlefish sells two sizes of this one also, so you can get a mini or large one for either ten or twenty-two dollars. 
I had to save the best one for last because wow. This candle is everything and more. One of my favorite influencers, Paula Rallis, opened up a furniture store in Greenville, South Carolina and they sell this candle. As soon as I smelled it, I knew I had to have it. The scent is a mixture of jasmine, water lily, and driftwood. Truly amazing!
If you don't love at least one of these candles, clearly our noses would just not get along.