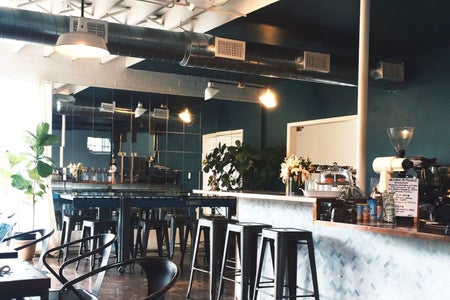 The Lowdown on Coffee Culture
I am an avid coffee drinker, and while I may skip my morning cup some days, my life wouldn't be the same without the good bean.  In the small town that I grew up in (shoutout to St. George!), coffee is just a drink. It's either made at home or bought from one of the few fast food restaurants we have around.  Generally, it is just a drink to get you through the day or a sweet offer from a host.
Moving to Charleston for college has exposed coffee to me in a whole new light.  Yes, for a lot of students and others in the city it is still just a drink made at home or by their local Starbucks barista to be a source of caffeine for the day; however, it has so much more potential.  With charming coffee shops like Kudu, Gnome, Mercantile and Mash, City Lights Coffee, and even King St Cookies, coffee has the ability to be transformed into a social event.
In a lot of countries around the world, the thought of taking coffee to go doesn't come naturally. Instead, coffee is savored in cafes with friends, family, or even coworkers. A cafe is where you go to catch up, share crazy stories of the day, or simply just talk. Coffee is definitely not served in a paper cup that you chug on the way to class, it is to be enjoyed with others.
Coffee shops in Charleston, paper cups and all, often encourage this coffee culture instead of our usual Starbucks on the way to class (and don't get me wrong I enjoy a Starbucks latte on the way to my 8 am if I can manage it).  More often within my first year of college, I have found myself grabbing coffee in my favorite cafes with friends to catch up, do homework, and sometimes even play board/video games. Kudu is the best place for the latter of these, providing Cards Against Humanity and Yahtzee among other board games for its customers.  
I really enjoy experiencing coffee socially over just for fuel.  While I always tend to be the first at the table to finish my drink, there's nothing better than being able to take in the cup at your own pace and really appreciate coffee for coffee.  And while taking your time to appreciate the drink for what it is, if you bring someone along with you there's there wonderful opportunity to interact with them face to face. In today's technologically focused world, sometimes it is nice to just get away from the screen for a conversation sometimes.  Also, what's not better shared with friends? And if for some wild reason your plus one doesn't like coffee, all of the shops I've mentioned (and most cafes in general) offer other great drink and food options.
Next time you feel a craving for what I (jokingly) refer to as the good bean juice, invite a friend or anyone you haven't caught up with in a while, sit down, enjoy their presence and the cup.
https://stocksnap.io/photo/OF5NTLMKGQ
https://stocksnap.io/photo/WNUBBWKRFX
https://burst.shopify.com/photos/coffee-date-couple?q=Coffee+shop