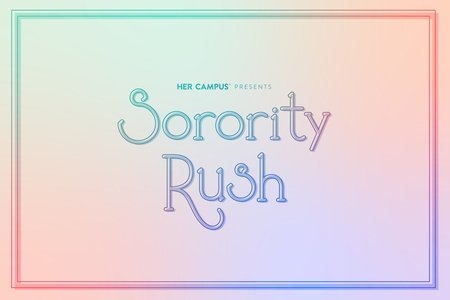 The Journey to the Right Sorority During COVID-19
My thoughts going into recruitment were very hopeful, and I still have a strong belief that I will find my home away from home, just not at this time. 
Day 1 and 2: Open House Rounds
So for these, what are typically two days of visiting houses, we watched short videos from each organization with our Pi Chi (recruitment counselor) over Zoom. These videos acted as a "sneak peek" of what one has to look forward to if she decides to join each organization, with some of each chapter's executive board talking about their experiences with recruitment. These members featured in the videos also all discussed why they love their sorority and some values they think would best describe the relationship between all the members of their organization. I personally thought how each chapter chose to present themselves was interesting and I took that into consideration when going through the recruitment process. Going into the Philanthropy Round I was pretty optimistic about the organizations I was going to meet.
Day 3: Philanthropy Round
With this round, I had no idea what to expect, considering this was the first time I was actually going to talk to some of the girls. Most of my interactions went well with really good and fun conversations, while others were good conversations but I don't know if the organization is the one for me. The ability to actually talk to some of the girls in the sororities I was considering reinforced some of the conceptions I had about the organizations. I was also surprised by how comfortable I was with talking to girls in different chapters, so the whole process was a lot less awkward and agonizing than I thought it was going to be going in. There were some "technical difficulties" with getting Zoom calls and breakout rooms to function properly, but once those issues were resolved we were full steam ahead.
Day 4: Sisterhood Round
As the day of Sisterhood Round came around, I was more nervous as I was very concerned about being dropped by my front-runner. I kept referring back to what my Pi Chi told us: "trust the process." I was way more anxious after this day because of the raised stakes of fewer organizations to pick from for the next round. In my last party, I had way better conversations with the organizations than the previous round, but it had me questioning all my previous decisions. Following the completion of all of my Zoom "parties", I was feeling very uneasy about how it went and had a very bad feeling in the pit of my stomach.
Day 5: Preference Round
On the morning of the Preference round -- the last day of recruitment -- I received the schedule I had most feared. I had been dropped by all organizations except for the two that I did not believe were the best fitting. I was devastated. I could not see myself in either organization, and I felt stuck in this horrible situation. I had to make the decision to either continue with the process or drop from formal recruitment. I called my mom and my sister, a previous Panhellenic member, for advice before I contacted my Pi Chi. After speaking with both, I decided it would be in my best interest to drop as I didn't want to be unhappy. My Pi Chi was very understanding and reassured me that I could participate in the continuous open bidding process after formal recruitment. This would allow me to have another chance to meet with the various sororities on campus. I feel confident in this decision and hope that I can find the right organization for me through the informal recruitment process.