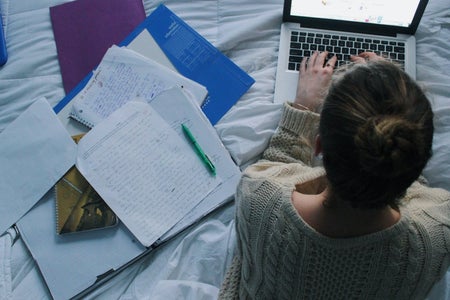 Anna Schultz / Her Campus
Don't Procrastinate Your Virtual Finals
I know we are all excited to celebrate the holidays, but as this semester begins to wind down, we enter the most stressful time for many of us in our college careers: FINALS WEEK! With so many classes being virtual this semester, managing all of these exams can be overwhelming. But, I have some solutions to reduce our worrying before we can truly get into the holiday spirit!
It is impossible to prepare for your exams if you are missing information or don't know when they are; trust me, I've tried! Put your exam dates on your calendar so that you know what subjects to prioritize. By organizing your studying habits, you will be able to prepare for what is most pressing to your calendar. Since many exams are scheduled over simultaneous days, it is important to plan ahead. This will also help to reduce procrastination as it forces you to deal with the next approaching due date!

Let's face it, we all have classes that are easier than others or that are likely to have exams that are more difficult for us depending on the layout of the class. It's important to prioritize studying for these more complex classes before the morning of the exam!

Start small to review what you may need refreshing on, working in steps on what you may not have grasped the first time around. It's so important to know what works best for you and your personal study habits as these vary from person to person. I often have difficulty studying, but I've found that listening to a Mario Kart Playlist has helped me power through a number of papers.

During this semester, we've spent a lot of time in front of our screens due to virtual learning. It's super important to take a break from these screens, especially during finals when our stress levels are higher. Take a few breaks during the day to get a snack, take a walk, or anything you like, so that your brain can rest. We're being put into overdrive to round out these classes that we have been working so hard on this entire semester, so allow yourself a break.
After this madness has concluded, it is officially time to get festive and relax after a long semester's work that you have definitely earned!