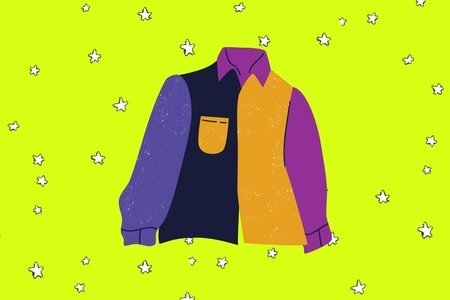 Original Illustration in Canva for Her Campus Media
5 Ways to Get Buyers to Your Depop Shop
If you're a lover of sustainable clothing, then you're probably already on the popular second-hand platform, Depop. You've probably already explored the app a bit, bought some new items, and have listed some of your own.
But maybe they're not selling. Why?
Often times, that's just because buyers can't find your page. So, here are 5 simple, but highly effective tips that will increase your shop's visibility.
1.

Take High Quality Photos

Potential buyers want to see exactly what the item looks like and what it could look like on them. Whether you prefer a flat-lay or to model the clothes yourself, make sure to do these to get the best photos:

-Use good lighting

-Try different angles (like a close-up and a full body)

-Style it with other pieces

-Choose a background that keeps focus on the item

2.

Write Detailed Descriptions

A really solid, informative description gives potential buyers confidence in the item and the seller, making them more likely to like, message, or make a purchase. Make sure to include things like the brand, a description of any flaws, and the price of shipping (if you offer free shipping on bundles, say so!).

Bonus points for exact sizing! (i.e. inches for bust, waist, inseam, etc.).

Celina Timmerman / Her Campus

Hashtags, hashtags, hashtags!

It can't be said enough. You have got to use the hashtags!

Adding these will greatly increase your shop's visibility. When users search key words like vintage, Y2K, floral, or animal print, your item will be 10 times more likely to come up if you've used that hashtag.

By frequently uploading new listings or refreshing old ones, you make sure to stay in your followers' feeds. Don't let them forget about you!

If you don't have many opportunities to create listings, then take advantage of Depop's drafting tool. This option allows you to save drafts to post later.

You should also stay consistent about checking in on your shop. Messaging a seller and never getting a response is no fun; even worse, buying an item and never receiving it! To avoid bad reviews, make sure you're regularly logging onto the app, responding to messages, and shipping orders within a few days.

Pull in interest by sharing your store on other platforms, like Instagram, Pinterest, and TikTok. You can also follow @Depop on Instagram and tag them in your stories. They will often repost and feature your shop for their thousands of followers!
Above all, be patient. Building up your shop will take time no matter what. But through these strategies and a bit of work, you will be well on your way! Good luck!