What You Need to Know about the Buffalo Bills 2017-18 Season
             If you're not waking up to your alarm going off at 7:30am on a Sunday morning to get ready to head to New Era Field to start tailgating for a Buffalo Bills game, you're not properly living in Buffalo. Buffalonians uphold so much pride for our city and our sports teams, that it makes it difficult for anyone to even think about leaving Buffalo, let alone missing a Bills game. Every Sunday during football season is a sacred holiday in the Queen City; whether it be a home or an away game, Bills fans treat every Sunday as if it were the Super Bowl.
            If you're new to Buffalo, here for school or even just in the city for an extended period of time, I'm here to teach you everything you need to know about the 2017-18 Buffalo Bills season, so that you can fit right into the Bills Mafia, with the rest of us die hard Bills fans! Get ready to feel the Buffalove!
            As I write this article, Buffalo is celebrating our "Victory Monday" after beating the Denver Broncos (26-16) in week 3 of the season, which we were most definitely not favored to win! So far this season we beat our division rival, the New York Jets in week 1, (21-12) and lost (9-3), to the Carolina Panthers in week 2; leaving us at 2-1 early on into the season. The next 2 weeks the Bills hit the road and face the Atlanta Falcons in week 4 and the Cincinnati Bengals in week 5. At the moment the Falcons are one of 2 undefeated teams within the entire NFL; meanwhile the Bengals remain at 0-3.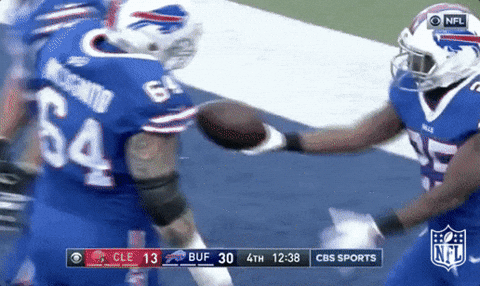 The rest of the Buffalo Bills 2017-18 season will play out just like this…
Week 6: Bye Week; Bills fans get the chance to sleep in one Sunday throughout the season (10/15).
Week 7: Home Game vs. the Tampa Bay Buccaneers, who are currently 1-1 (10/22).
Week 8: Home Game vs. the Oakland Raiders, who are currently 2-1 (10/29).
Week 9: Thursday Night Away Game vs. the New York Jets, who are currently 1-2 (11/2).
Week 10: Home Game vs. the New Orleans Saints, who are currently 1-2 (11/12).
Week 11: Away Game vs. the Los Angeles Chargers, who are currently 0-3 (11/19).
Week 12: Away Game vs. the Kansas City Chiefs, who are currently 3-0 (11/26).
Week 13: Home Game vs. the New England Patriots, who are currently 2-1 (12/3).
Week: 14: Home Game vs. the Indianapolis Colts, who are currently 1-2 (12/10).
Week 15: Home Game vs. the Miami Dolphins, who are currently 1-1 (12/17).
Week 16: Away Game vs. the New England Patriots (12/24).
Week 17: Away Game vs. the Miami Dolphins (12/31).
            Throughout each of these games there are a handful of players you should keep your eyes on as they prove themselves to the Buffalo Bills franchise and the rest of the city! Quarterback Tyrod Taylor will be working hard this season to prove his spot as starting QB, while the scouts for the Bills keep their eyes on the top college QBs throughout the season. Besides our QB, our defense is also a major factor in winning games this season. Keep your eyes out for veteran defensive end, Jerry Hughes, outside linebacker Lorenzo Alexander and safety Jordan Poyer as well as safety Micah Hyde as they lead the Bills to, what we're hoping for, a winning season!
            Now that you know when all of the home games are, you can start planning your next trip out to Orchard Park; there are just a few things you need to know before attending a Bills game this season…
Make sure to grab some Bills apparel; whether it be a LeSean McCoy jersey, a Bills Mafia t-shirt or your dad's old Bills Zubaz, going to the game in full Bills apparel is the first step to enjoy football Sunday at the stadium.
Bring everything you would normally see at any college party! This means all of your solo cups, ping pong balls, a table, a speaker to play music, snacks and all the beer that could fit in the trunk of your car, to have the best possible tailgate.  
If you're planning on going to the game with a large group of friends, renting a bus may be the way to go! Many groups of friends rent buses to take to and from the game, so there is no need to worry about who will be driving and so that the entire group is together throughout the tailgate, while making it much easier to park!
Nothing compares to a Buffalo Bills tailgate; so be prepared to see fans jumping off of buses onto beer pong tables, falling over while playing dizzy bat or jumping into anything lit on fire! Just know that this is all normal for a Bills game!
If you do not already know every word to the "Shout song," I would highly recommend you start studying!
Now that you know which game you plan on attending and know exactly what to expect, I officially welcome you to the Bills Mafia! Make sure to enjoy the rollercoaster ride that is football season and most importantly, go Bills!